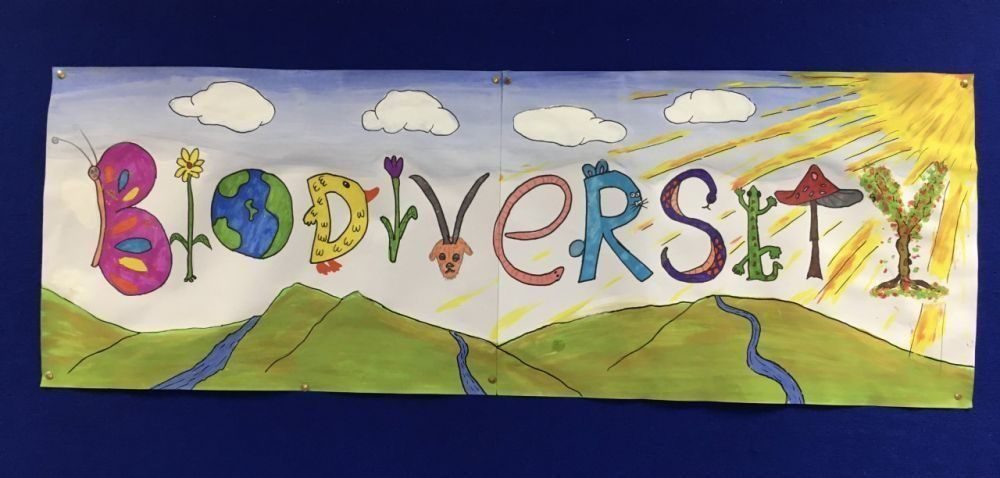 Thanks so much to Grace and Adam Roche on the 3rd class committee who spent all weekend 5/6th November making this massive poster for our Greenschools noticeboard. It is just OUTSTANDING and really brightens up the corridor. We are off to a fantastic start with this new flag.
BIOECONOMY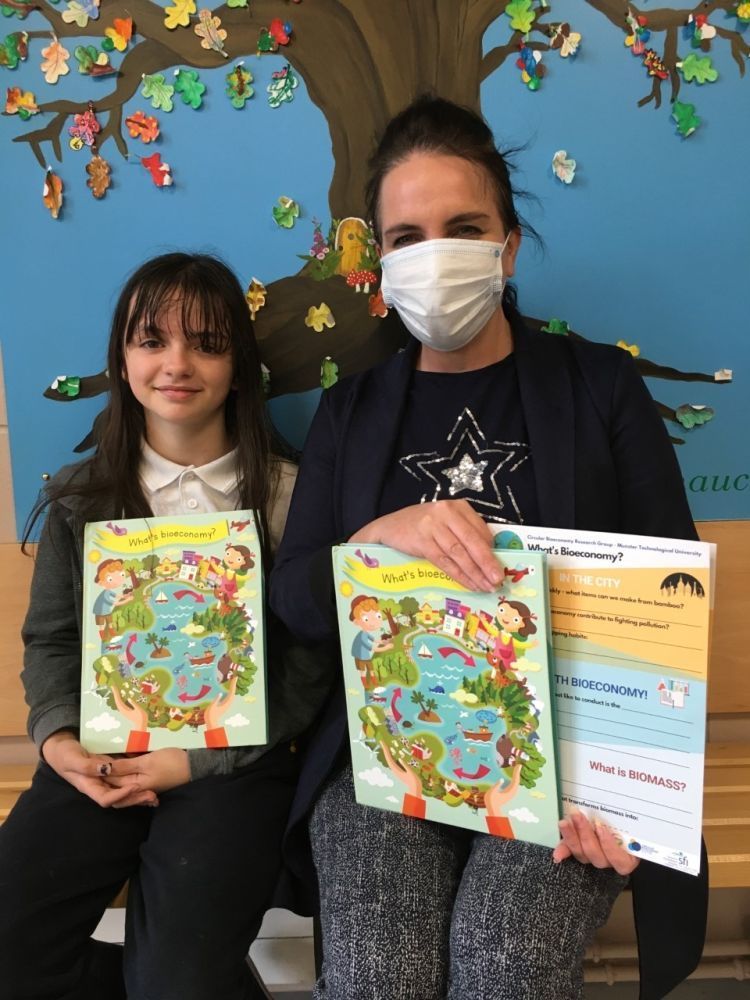 Bioeconomy by Barry and Polly, 5th Class
Eve Savage came into Mr Foley's 5th class on Friday 5th November to launch the 'Whats'Bioeconomy' primary school programme and to deliver a consignment of the first ever children's book about the bioeconomy. This book has been developed by a number of European partners in the BioVoices EU finded project. Eve is Polly's Mom and works with the Circular Bioeconomy Research Group (CIRCBIO) at Munster Technological University in Tralee. She showed the class slides about the circular versus linear model and the benefits for all within the Bioeconomy. 'It's about the economy around you and how you preserve it,' said Barry. 'It's about animals and buildings,' said Polly'and keeping animals safe while they are still making new buildings and not putting toxic stuff into the air.' 'A safe bioeconomy and a safe environment is the aim,' said Barry.
Eve spoke about how not using plastic toothbrushes or straws can help and she gave everyone in the class paper straws and bamboo toothbrushes as presents. Barry has tried out his bamboo toothbrush and says there is no difference and it just as good a job as a plastic one. She also gave the class a present of POOPOOPAPER made from elephant poo! This paper was made in a paper factory in Thailand where they recycle elephant poo to make paper instead of cutting down trees. This really helps the environment said Barry.
The children were introduced to the biorefinery process and the Irish Biorefinery Glas project that is making 'hard feed' for animals such as pigs, made from cut grass and water mixed together in a machine instead of having to import food from other countries and this would lessen our carbon footprint. This biotechnology extracts several high value products for the food sector and animal feed industries. 'This helps not waste as much grass in fields,' said Barry.
She also gave us books about Bioeconomy and we have to read these and return them next Monday. Our class was the first to read these books in Ireland. These books are really colourful and informative. Eve and the CIRCBIO team will be talking to children in classes all around Munster. It is part of Science Week which is in November.
Barry said Eve was really nice and really easy to listen to. Polly said she thought the SUTU straws were funny because it looked like they all had tattoos with faces on them!
Barry said that humans are doing this at the moment:
LINEAR MODEL - Make, Take, Use and Discard
What we need to do as humans is:
CIRCULAR MODEL - Make, Take, Use and Recycle
SOIL DAY 2021
To mark international Soil Day 5th December 2021, as part of our Greenschools Biodiversity flag, our 3rd class committee began an experiment. The idea was given to us by scientist and parent Joanna Mc Millan. We buried a 100% cotton cloth in our organic space and will dig it up again in March. If it has disintegrated, then we will know the earthworms are doing a wonderful job and that our soil is healthy. Thanks to Paudie for the shovel work!
BIRD HOUSE
Thanks so much to Callum and his dad Kevin for making and gifting this fabulous bird house to our school in December 2021.
OUR WORLD
Ms Debbie Moriarty's 6th class watched the David Attenborough documentary 'A Life On Our Planet' and discussed Cop 26. They then researched projects based on 'Our World' and presented them in December 2021 to the class. The standard of work was terrific. Well done to all. What a great Curricular Link to our Biodiversity flag.
GREENSCHOOL MEETING 19th NOVEMBER 2021
Grace and Adam were thanked so much for their poster.
Children were asked to look up the Greenschool website https://greenschoolsireland.org/ for great ideas.
We welcomed Katie to Greenschools and look forward to welcoming Ben soon too.
We planted 7 packets of seeds in our wild green area.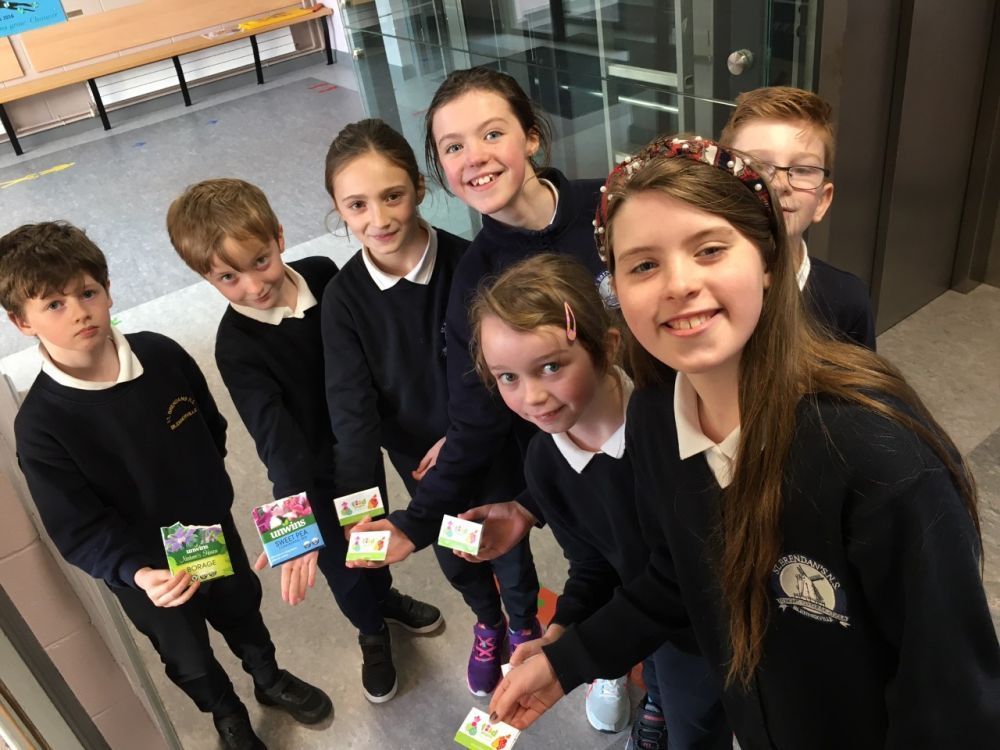 We added up the survey results of 2nd to 6th class and the results are to be seen here: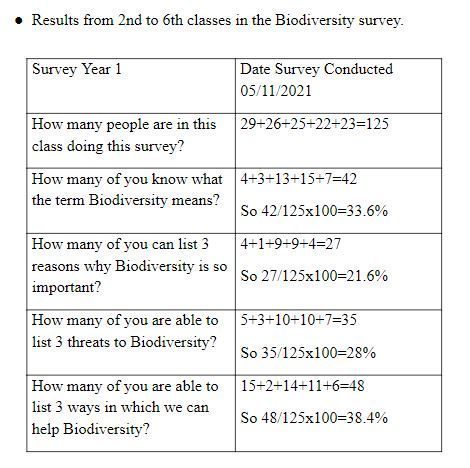 PHOTO OF SEED PLANTING 19/11/2021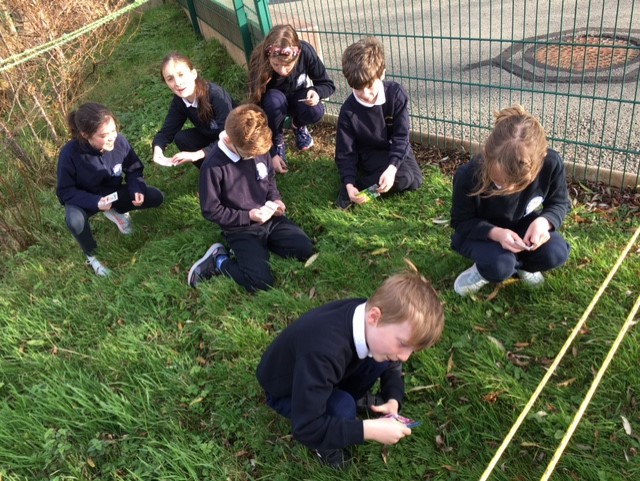 FLAG RAISING DAY
We raised our 5th Greenschool Travel flag on 12th November 2021. Thanks to 2nd class who worked two years on this flag and to Flynn and Alex who helped Ms Brassil and Paudie to raise it while the school were all assembled outside after the fire drill practice.
GREENSCHOOL MEETING
We had our first Greenschools meeting on Friday 5th November with 3rd class.
We went through the 7 steps towards getting a flag.
We did the survey to see who knew what Biodiversity was.
We also did our Habitat walk and first sketch of the habitats in our school. We had to select an area to allow grow wild. 
Next meeting 19th November 2021.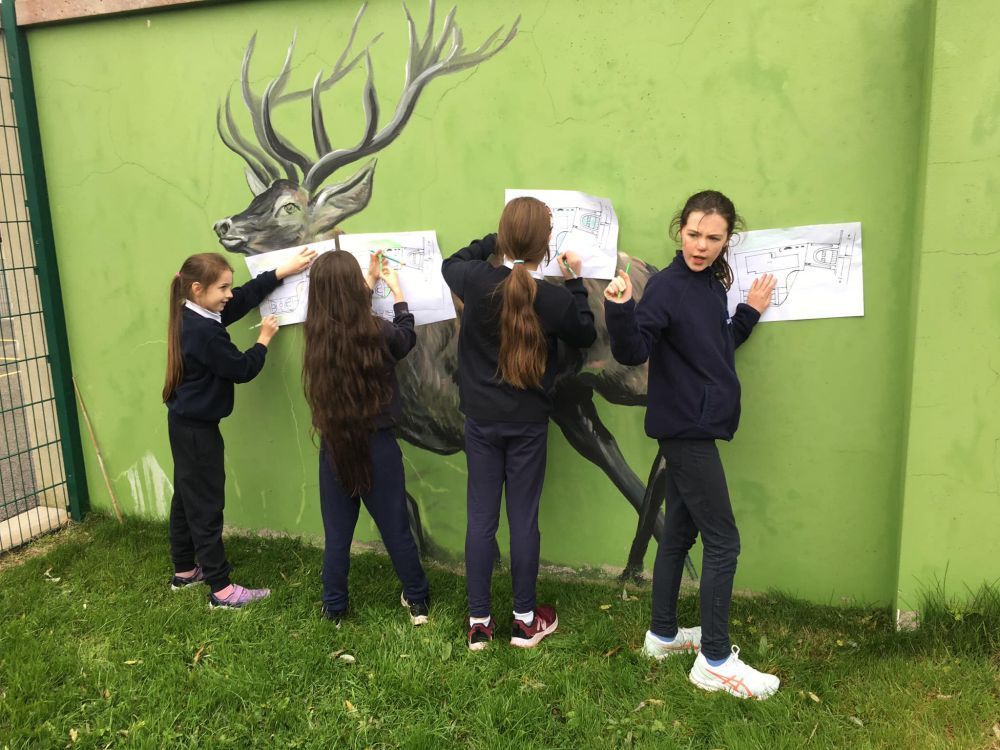 CURRICULAR LINKS BIODIVERSITY
Junior Infants went on a walk through the village in November in search of houses, two-storey, semi-detatched, bungallows. All habitats in our local village!
PIZZA PARTY CELEBRATION 2nd CLASS OCTOBER 2021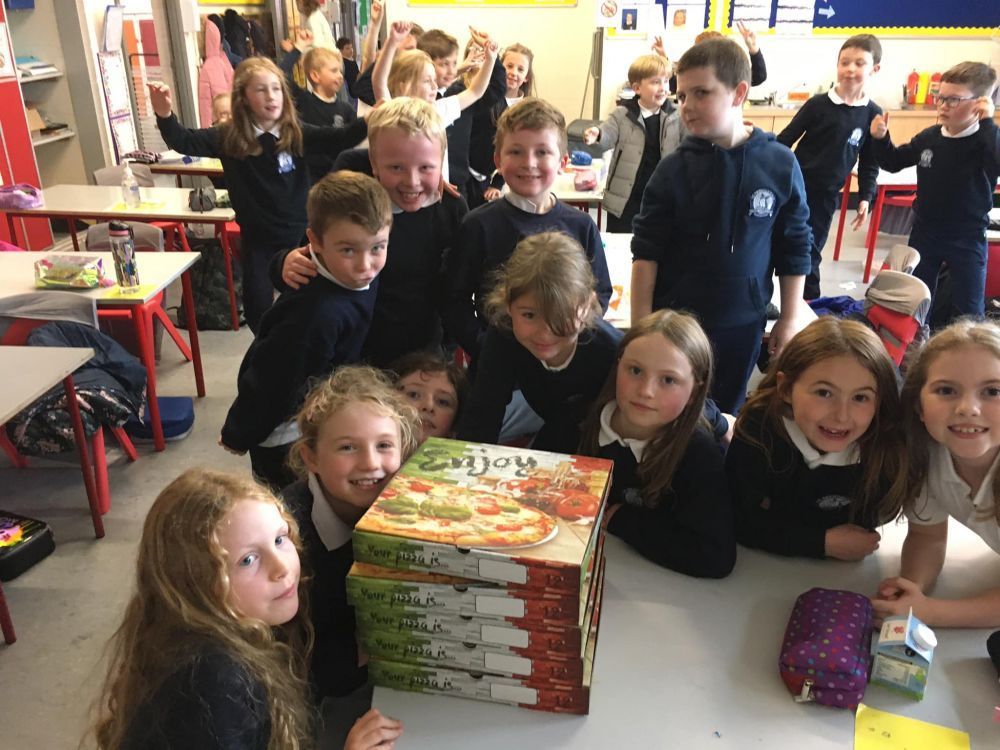 AWARDS CEREMONY
We were very proud on Wednesday 6th October to watch the Greenschool awards ceremony live online in 2nd class. Our school was mentioned for achieving our 5th flag for Travel. We celebrated that Friday 8th October with a Pizza Party with delicious and great value pizzas from Pizzatime, Tralee. Thanks to Mrs Lawlor for allowing Greenschools take over her class twice last week and we will raise that Travel flag very soon, once it arrives in the post. Well done 2nd class on your two years of the travel flag. You were fantastic!
OUR 5th GREENSCHOOL FLAG!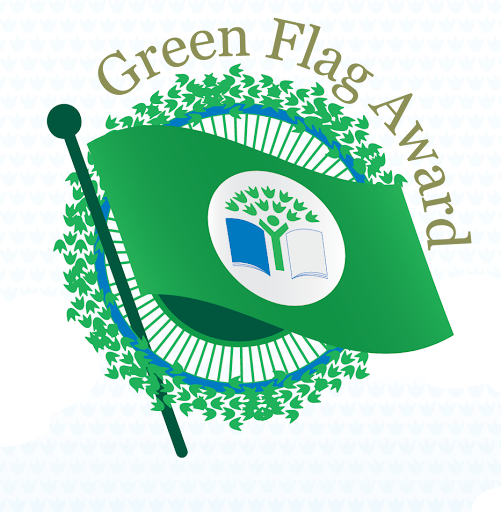 We got great news on 28th May that we have been successful in our application for our 5th Green School Flag for Travel. Thanks so much to all classes who helped to get us this award. Everyone was great with the surveys, the carpooling, the walking to school. Thanks to Angela Wall who was fantastic in helping us get this flag. Thanks to the committee of 1st class children with their litter-picking and motto: Park the car and walk the rest. It's not that far and would be best! The flag will get to us in September as it's unclear whether it would be safe enough yet to have a ceremony to celebrate. Either way, we are thrilled to welcome this, our 5th Green Flag.
WALK TO SCHOOL PHOTOS
Sincere thank to everyone who entered the Walk to School Week photo competition. One class in particular was outstanding with the amount of photos they sent in! We don't think we won in the national competition but Ms Brassil and Mr O'Connell had a chat and have decided to award one class in the school muffins for the entire class as a surprise one day in the coming week (1st week of June). So well done for your efforts everyone!
NATIONAL AWARD FOR PAST PUPIL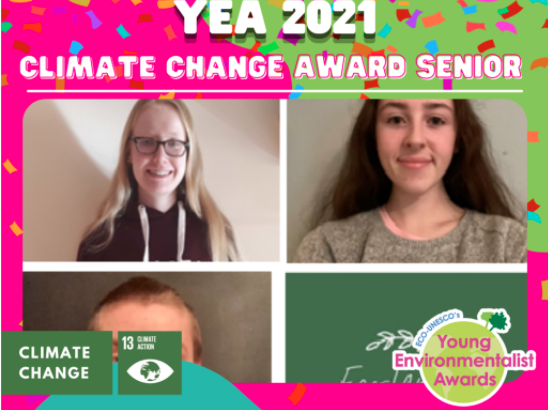 We would like to convey our huge congratulations to past pupil Sorcha O'Donoghue and 2 of her classmates, now attending Gaelcholáiste Chiarraí. Since the start of TY, for an entire school year, they have been working on an envioronmental project based on fast fashion for the Eco UNESCO Young Environmentalist Awards and were finalists. But today, in a live awards ceremony on YouTube they found out that they won the senior climate change category at all Ireland level! President Michael D. Higgins addressed the students at the ceremony today and you can watch it on this link:
(Find Sorcha just after 39m.) We are extremely proud of you Sorcha, always a conscientious student and continuing spreading the Green-schools message beyond Primary school. Well done girls. What an achievement!
Read about this in a Traleetoday.ie article posted on 27th May 2021 via this link:
http://traleetoday.ie/gaelcholaiste-chiarrai-students-win-young-environmentalist-award/?fbclid=IwAR3yE3B6l5mKoLvXvqoVsqGmMpjtykvKTv36xYuCK03McwogDP81Jh_p8cU
WALK TO SCHOOL WEEK

Let's make a big effort to walk to school during Walk to School week from 24th to 28th May 2021. If you can't walk, maybe you could park and stride, walking the last section of your journey to school. Every little effort helps the environment. If you send a photo to Ms Brassil of your walk to school during this week, she will put it on FB and tag it to Greenschools and we will be in with a chance of winning cupcakes for your entire class each day during Walk to School Week! Email: This email address is being protected from spambots. You need JavaScript enabled to view it.
Greenschools are organising 3 Zoom webinars during this week. We have applied for links to all 3, so hopefully different classes will do different links, depending on what suits them! Here is what is on offer:

SPEED DATA
Thanks to Angela Wall our Greenschool Inspector for gathering this data for us from a Speed Test with a real Garda police speed gun in May 2021. Here are the results in the 2 pictures following: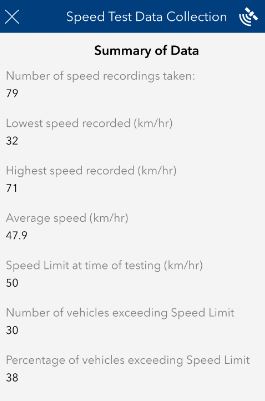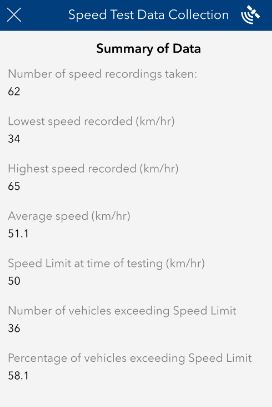 TEACHER RESOURCES
There are some fantastic resources for teachers on the Travel theme that you will find by clicking https://greenschoolsireland.org/resources/theme_category/travel/ There is also a quiz link, as well as links to worksheets and fact sheets that would be great fun to do at home or school.
AND... ACTION!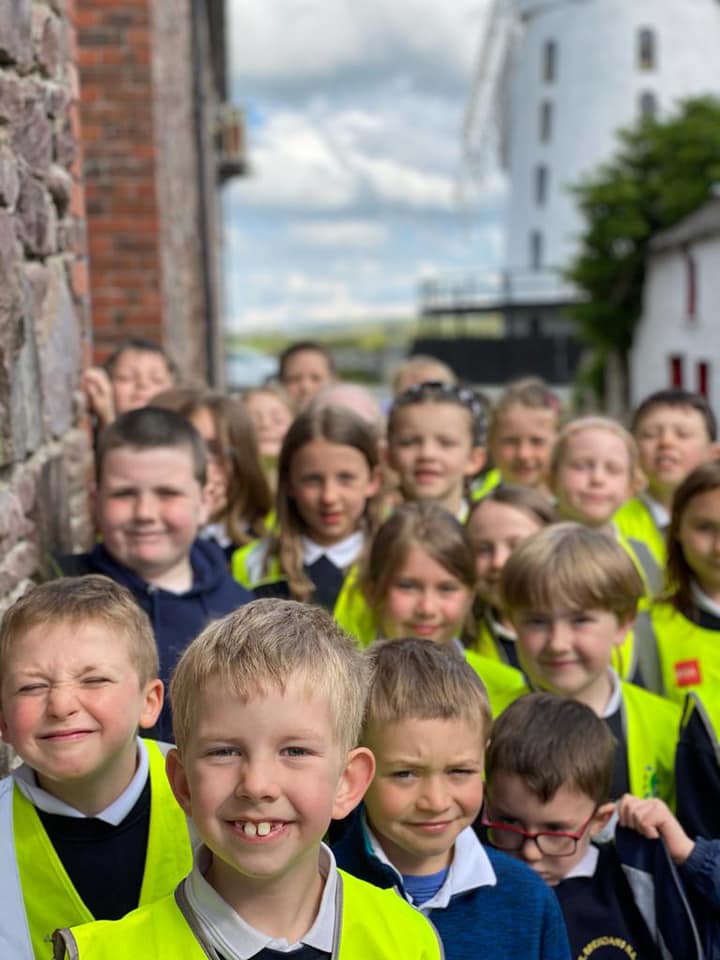 Thanks so much to everyone who made an effort to walk, park and stride, scoot and cycle to schoolon 30th April 2021, on our Day of Action. Our bicycle stands were full. Children all wore high visibility bibs to school to highlight road safety as this is our Greenschool Travel flag year 2. Thanks to Angela Wall our Greenschool inspector and An Taisce National Spring Clean for dropping by the village this morning. She used a speed camera to do a survey of car's speed through the village. She clocked frighteningly high speeds this morning  outside our gates at 8:30am! We wish traffic travelled slower, especially at school times. Classes have been litter picking all this week and we hope we have made a difference to our community by helping clean up. It was lovely to see familiar faces on the walk. 3rd class met Mrs Sugrue and Mrs O'Connor on their walk who both taught at our school. Thanks to John Higgins for taking what we collected from us. Thanks to Paudie our caretaker for getting all the bags together and bringing them to Higgins' Waste. Thanks to Mr O'Connell for getting hands on and helping with the rubbish too! Well done to everyone and thank you all.
DAY OF ACTION!
Our Day of Action is April 30th 2021. Are children are being asked to wear high viz to school to highlight road safety for our Travel Flag theme. Classes are doing a Spring Clean also and all the rubbish we collect will be taken thanks to Higgin's waste. Thanks to everyone who will litter pick during the last week of April.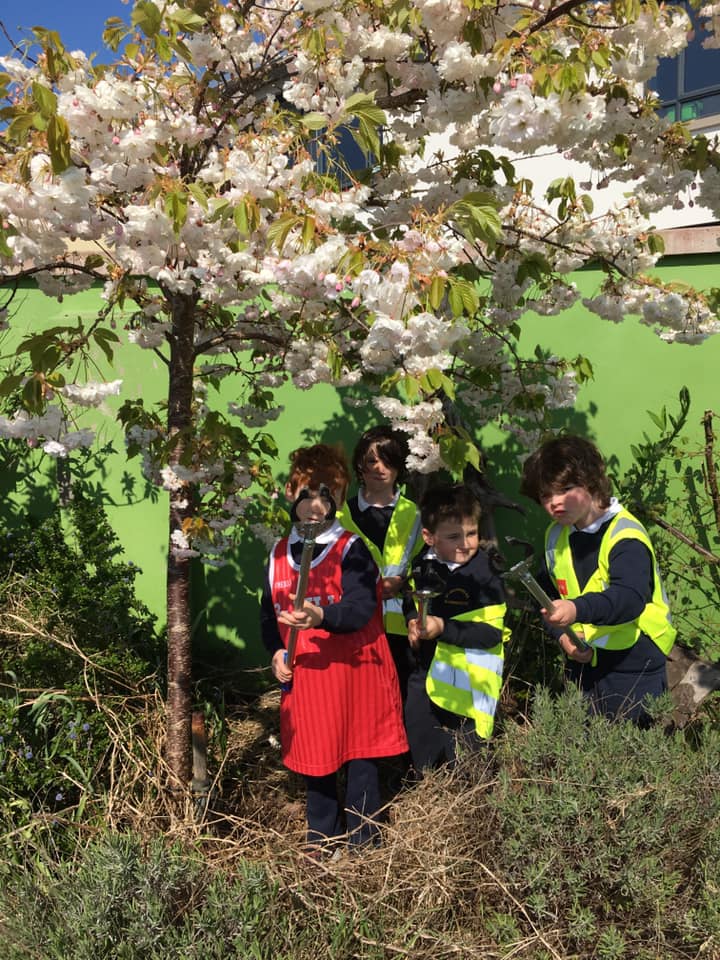 WORLD EARTH DAY
Here is Erin with something she did at home for World Earth day in April and also a sample from 1st class' SESE copybook of what they did to mark World Earth Day.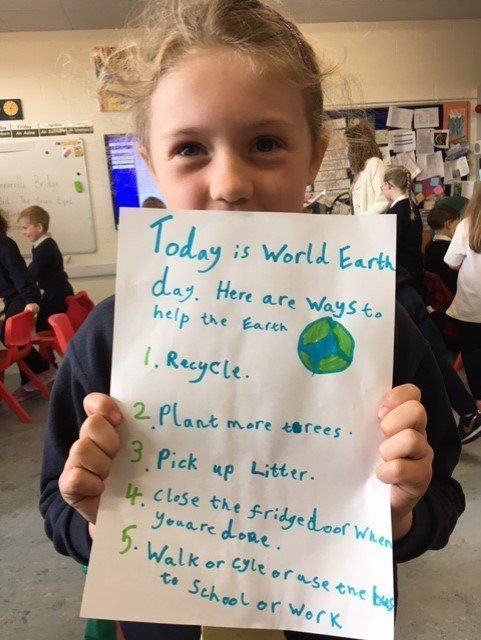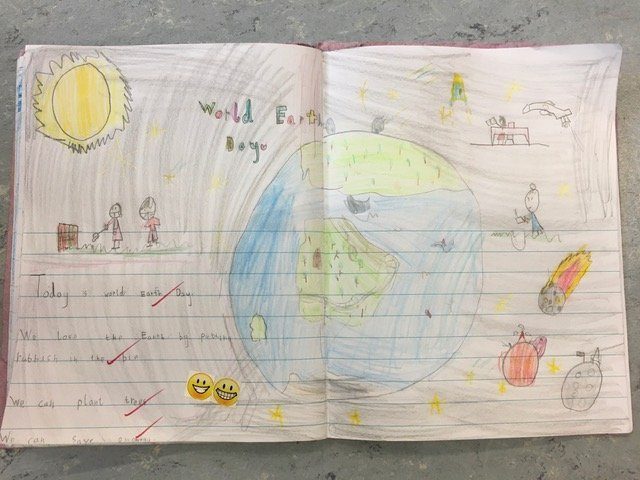 CYCLE STANDS FULL!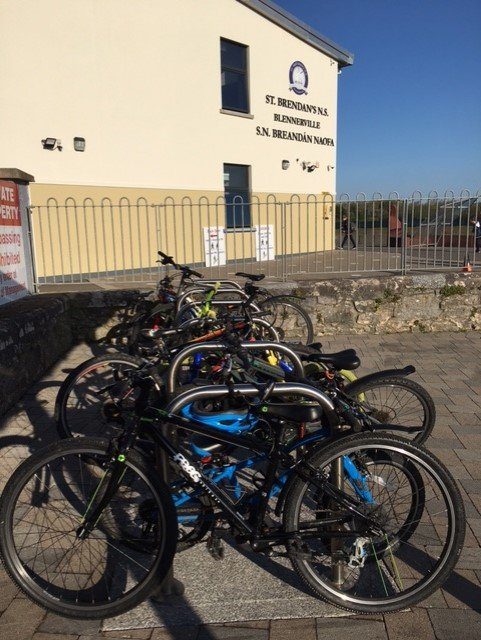 It is fabulous to see our cycle stands full to capacity on 15th April 2021. Well done to everyone who cycled to school. It is so good for our health, te environment and our mental well-being. Keep it up everyone. If more cycle, we will look at getting more cycle stands.
Check out this amazing art display of bikes that 4th class did 16th April 2021 as bikes and cycling are to the forefront of all of our minds at the moment with this fine spell of dry weather!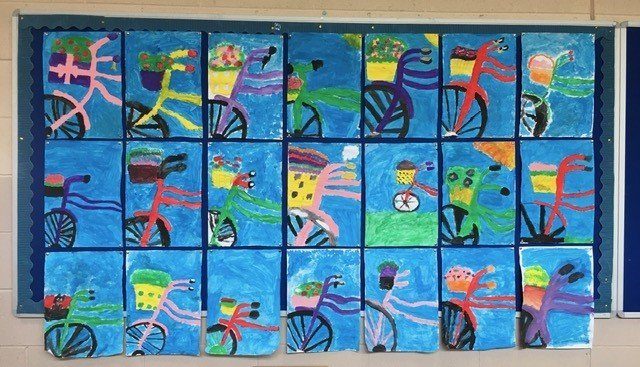 WATER POSTER COMPETITION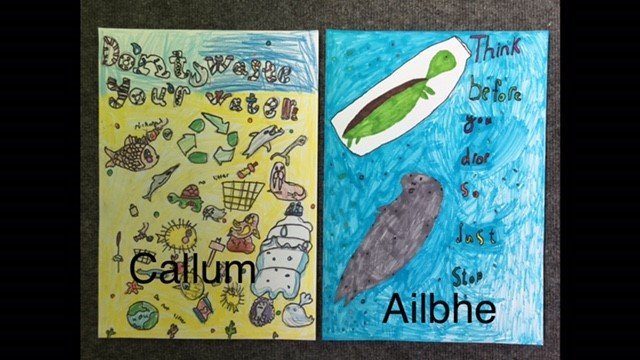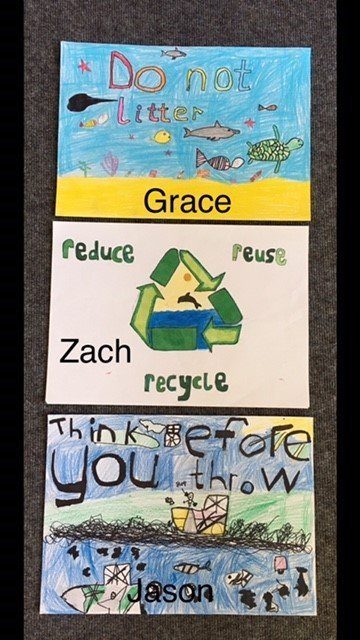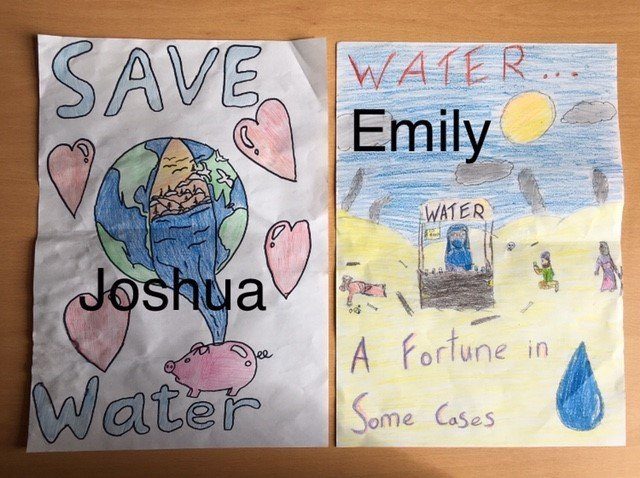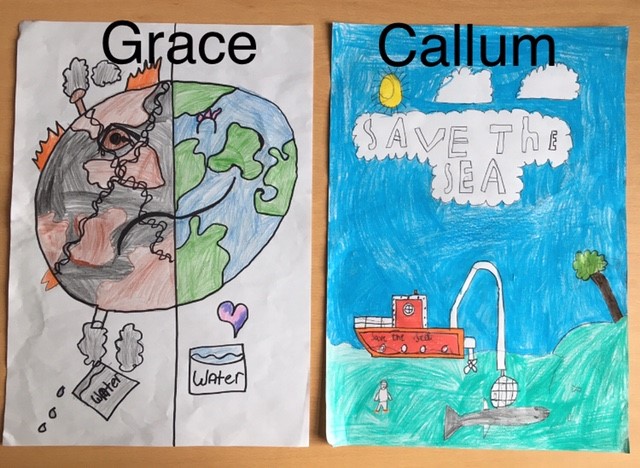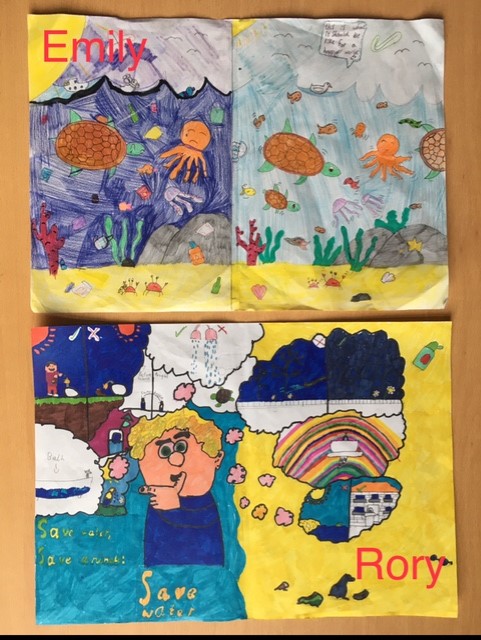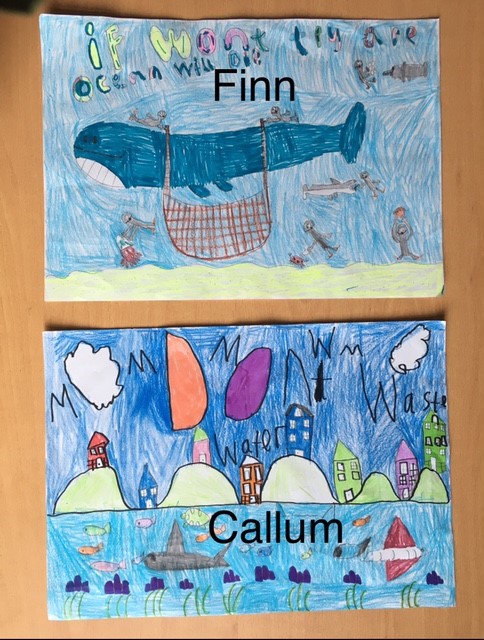 Here are just 5 examples of the wonderful Water Posters 2nd and 4th classes have done for An Taisce's competition. Thanks to all children who entered this competition. Super job!
COMMITTEE INSPECTION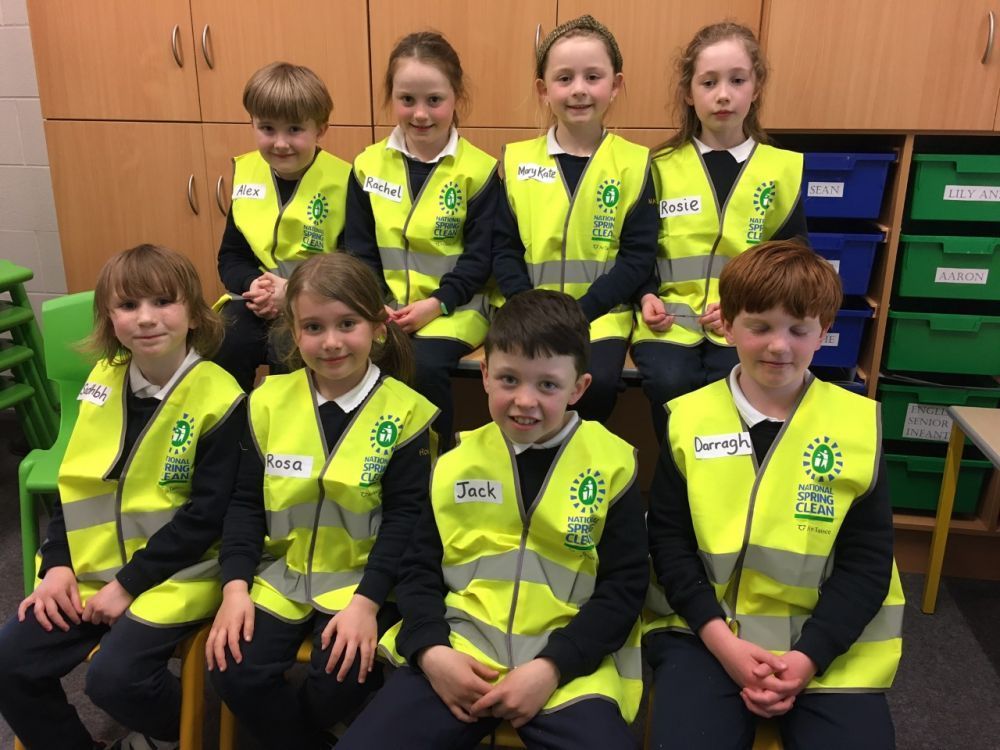 On 25th March 2021, 8 members of the Greenschool committee spoke to Angela Wall, our Greenschool inspector from An Taisce via a Zoom call. These children were all from 1st class and spoke very well about our Travel flag, plans for our day of Action coming soon and told personal stories about what they are doing to be more environmentally friendly. Ms Brassil was extremely proud and Mr O'Connell popped into the meeting for a few minutes too and was very impressed. Thanks to Ann Marie, our SNA for being on the meeting wit us and to Angela who was just terrific in getting the best out of the children and giving them all a chance to be heard. They each got a high-viz jacket to keep which are great to wear cycling and walking and keeping us more visible. Don't worry if you didn't get the opportunity to be on the Zoom with us today, as if we get this flag, everyone will get to celebrate it with us.
WATER POSTER COMPETITION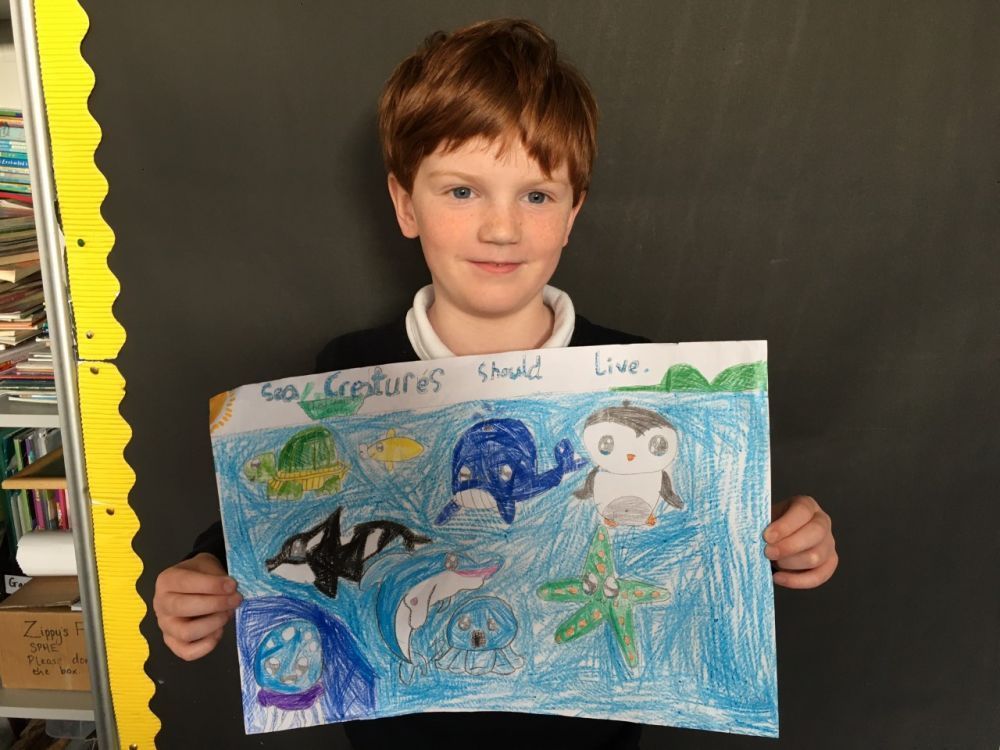 We are entering the Greenschools Water Poster Competition and Darragh was so enthusiastic that he did his poster at home! Looking forward to seeing the entries pouring in but they won't be posted until April 20th so take your time classes. Thanks to everyone who will enter.
RECYCLED WATER BOTTLE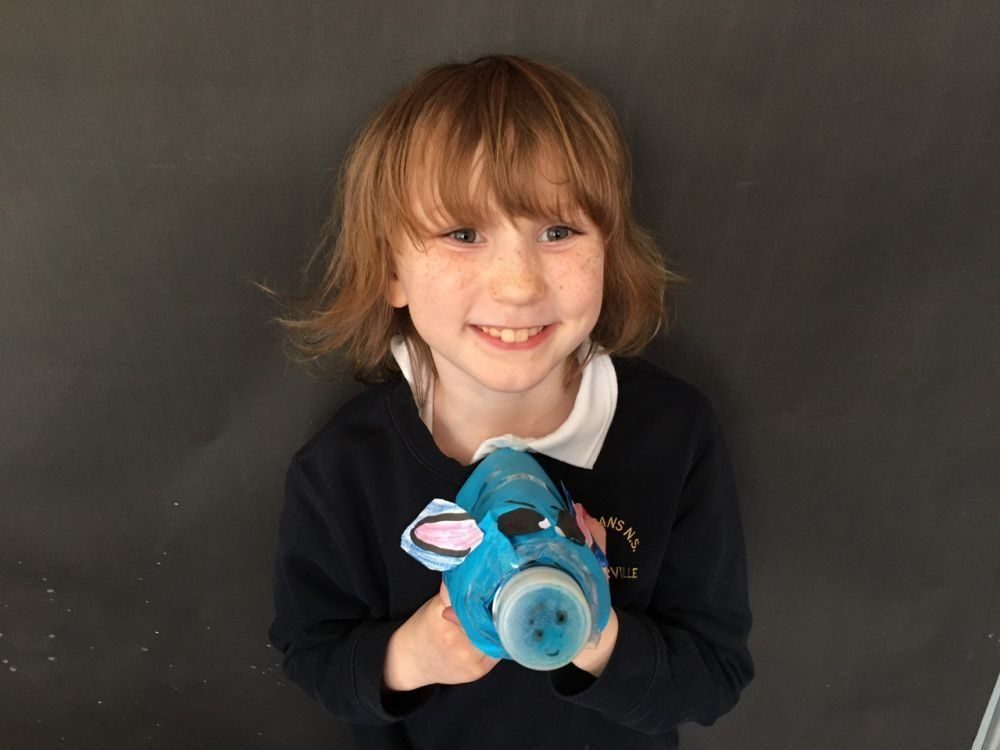 Well done to Grenschools committee member Sadhbh for making the cutest elephant from a used plastic water bottle, showing us art can be created when we re-use things.
SCOOT TO SCHOOL WEEK

It would be wonderful if any of our pupils could Scoot to School during March 22-26th 2021. If you have a scooter and if you are able to scoot, please ask Ms Brassil at the school gate to take your picture as she will be at the gate each morning. Get on your scooter if you have one! Here are some super scoot challenges from Greenschools. Have fun scooting!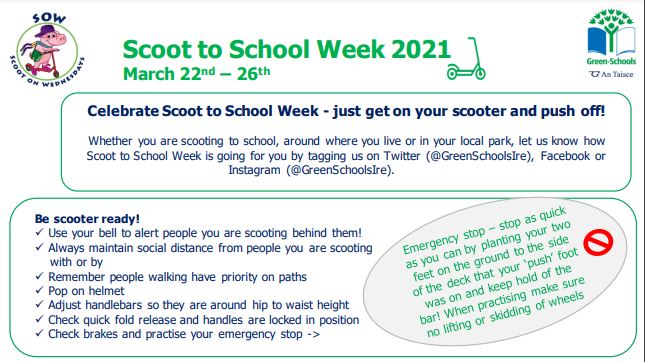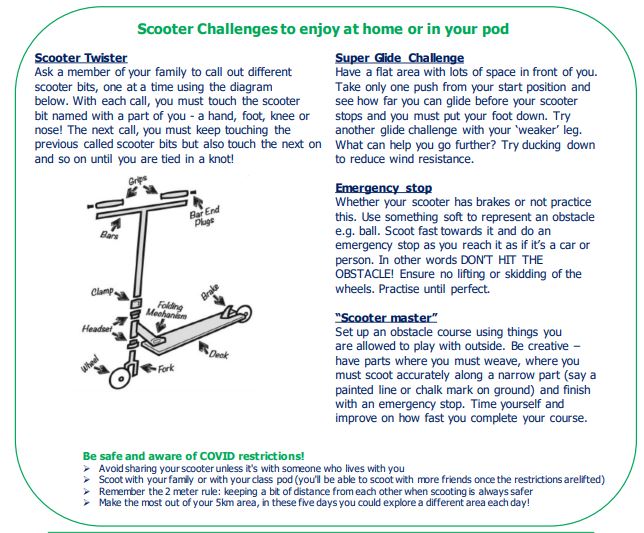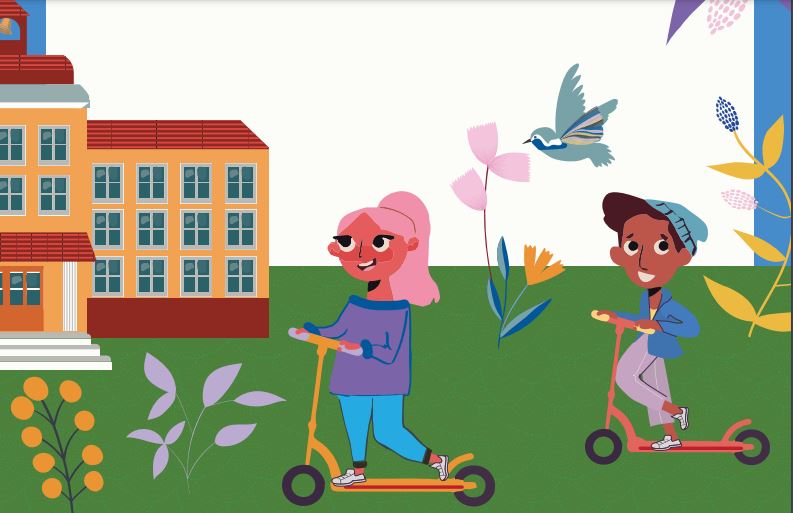 RE-CYCLED TAJ MAHAL
Inspired by the Greenschool meeting on Friday 12th March 2021, Ruby went home for the weekend and using recycled materials made her own Taj Mahal. Well done Ruby!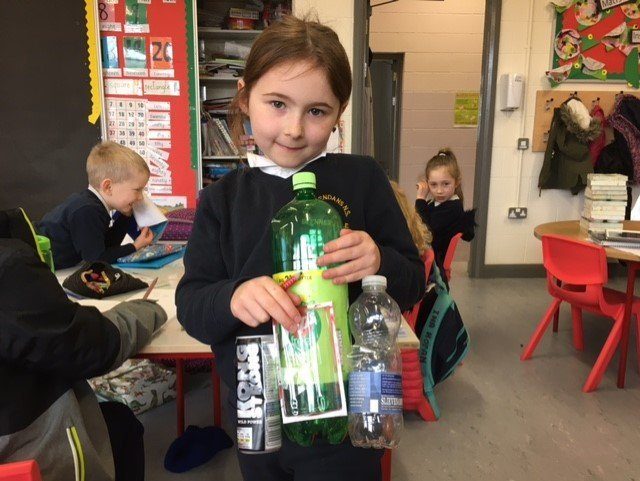 PLANTING
Another Greenschool committee member Rosie who was inspired by the Greenschool meeting on 12th March planted a flower in the grass in the school yard on 15th March. I hope it takes root and grows Rosie. Planting is great for helping with keeping air clean and is great for animals and insects too.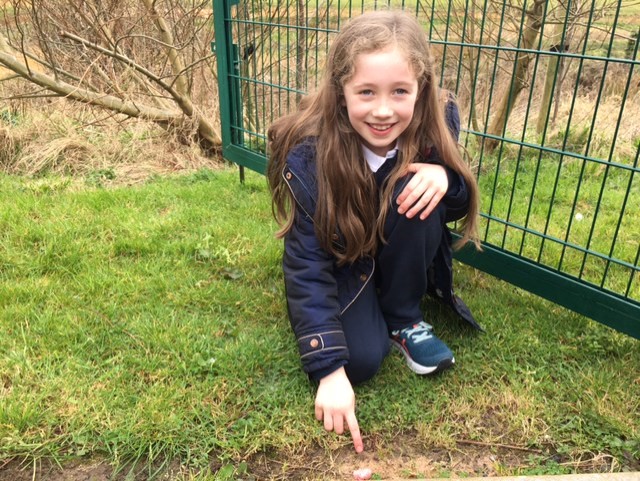 PEDALS GETTING POPULAR
There was a full bicycle rack in school during the first week back in March 2021. It has been fantastic to see so many of our pupils cycling to school accompanied by their parents this week. Keep it up everybody and thanks to parent Anluan Dunne for the photo.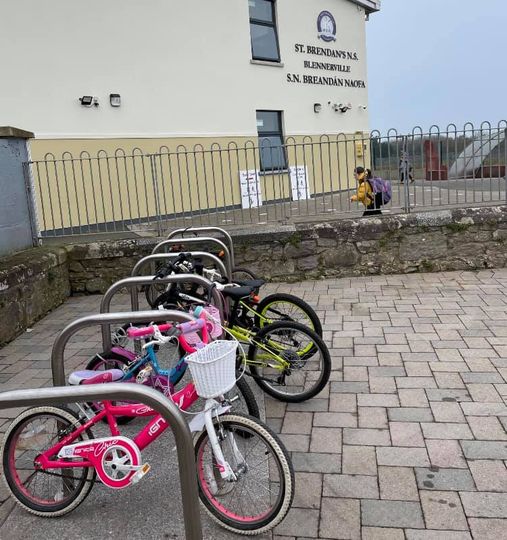 LEE STRAND WINNER!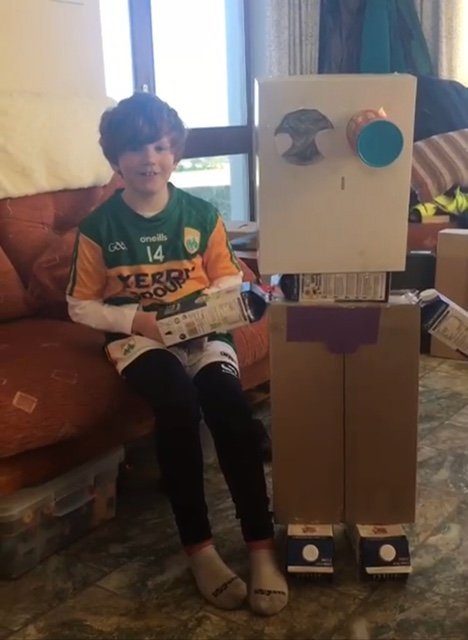 News just in 2/2/2021.
Congratulations to 1st class student Darragh Sheehan who won a Lee Strand Environmental Award Certificate and a €25 All4One voucher for himself when he entered a Lee Strand competition. Darragh created his own robot, using boxes and mostly Lee Strand cartons which he recycled to make the robot's arms, neck and legs. He called his robot Detective R-Bot and he made a video doing his very own robotic voice introducing himself and explaining his use of the cartons. We are so proud of you Darragh and this will certainly help us going for our Greenschool flag this year. Well done to you!
WELL DONE ROSA!
Well done to 1st class student Rosa, who was litter picking at the Blennerville canal on 1/2/2021. Her family got chatting to Pa Daly, the Sinn Féin TD while litter picking and Rosa told him about the Greenschool and being on the committee and that Miss Brassil encouraged litter picking. Pa Daly contacted Miss Brassil that evening to tell her how impressed he was with Rosa's goodness and initiative and we both agreed Rosa you are a STAR for doing this to help the environment. We are all very proud of you in Blennerville School. Well done Rosa.
RECYCLED BOTTLE ART
Ms Olivia O'Shea's 4th class created their own round towers as they were studying the spread of Christianity in Ireland in December 2020. They learned all about monasteries and monks and round towers. They covered bottles in old news papers with glue (paper mache) painted them grey, painted on windows and drew on bricks with sharpe pens. They designed the cone shaped roofs and then glued them on to the bottles. They really enjoyed the whole process.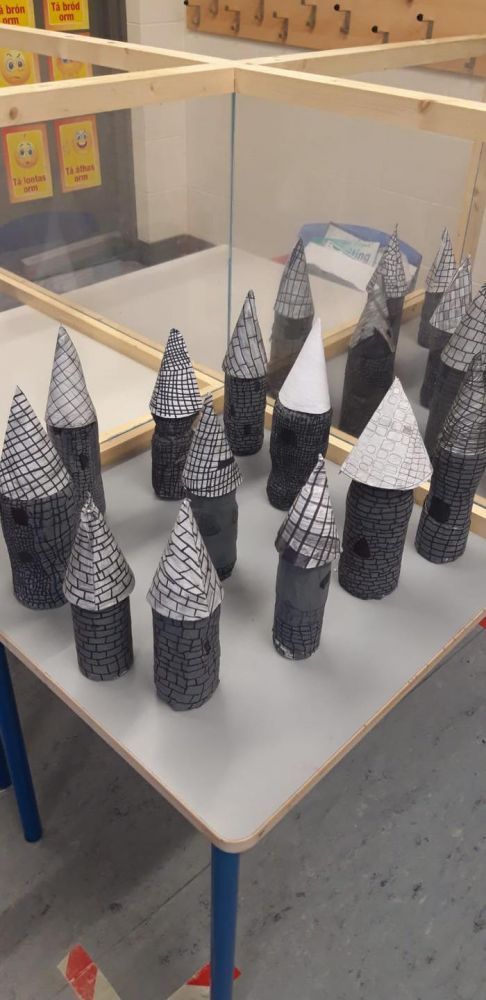 OUR TRAVEL MOTTO
Thanks so much to 1st class for entering so many ideas for the Travel Flag motto competition which ran this month. It was limited to 1st class, who are the committee. I am delighted to announce the winner is Darragh Sheehan with his motto:
Park the car and walk the rest
It's not that far and would be best.
Congratulations too to the runner ups: Rachel Colivet, Mary Kate O'Shea, Alex O'Sullivan and Sadhbh O'Brien who all got little prizes on Friday 4th December from Ms Brassil.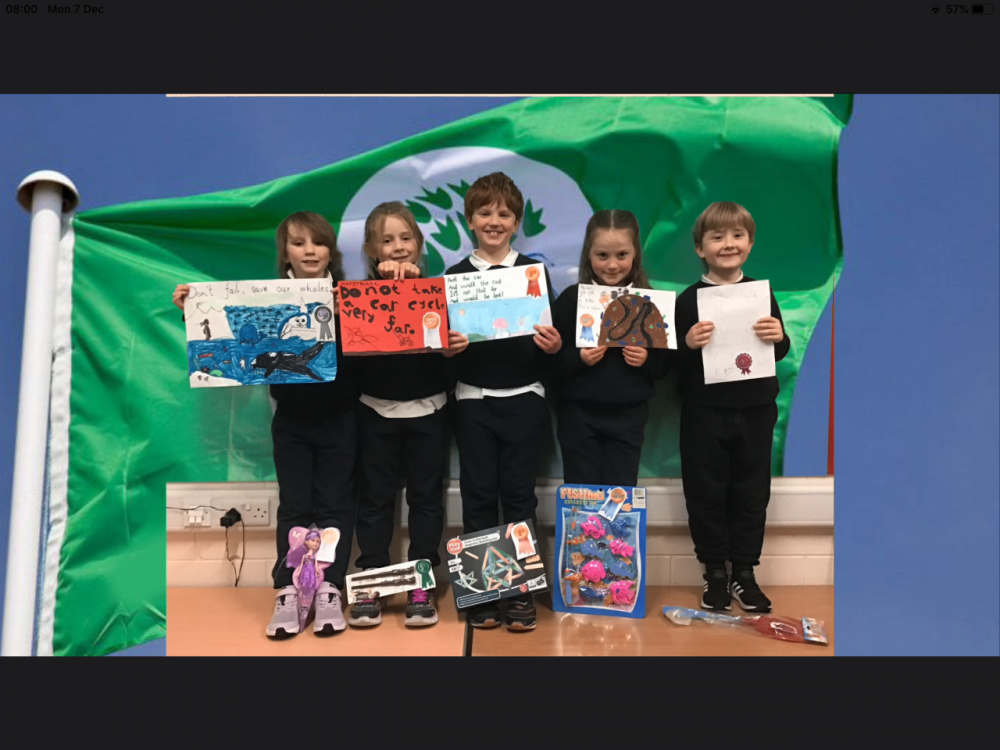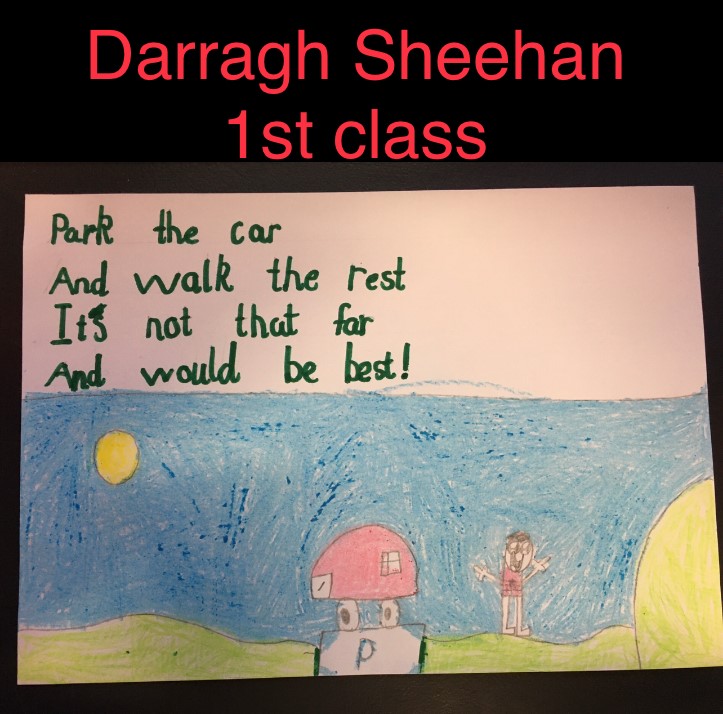 CLEAN AIR WEEK
Thanks to the classes who made huge efforts for Clean Air Week November 2020. Two classes entered the Clean Air competition. See their entry by clicking on these links.
Here are photos from Ms Sarah Dinan's Senior Infant class who did a lesson using the outdoor classroom in fresh Blennerville sea air during this Greenschool Clean Air Week, 23rd-28th November 2020. Also you will see a photo of Austin who drew this lovely picture of himself with his friends outside in fresh air.
CARPOOLING RECREATED!
This first image was taken in February 2020 as part of the Greenschool carpooling effort campaign. The rest were taken in November. See if you can spot the difference! A trophy and a few teeth to say the least. Thanks to Holly, AJ, James, Hannah and Matea the driver for re-creating this and to Ms Doyle for the props.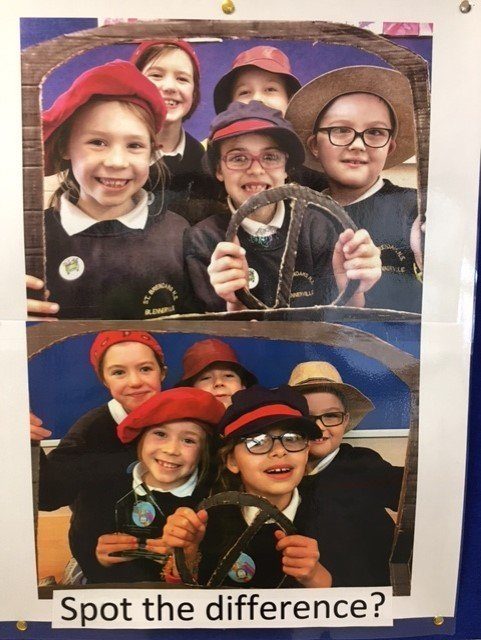 WE WON!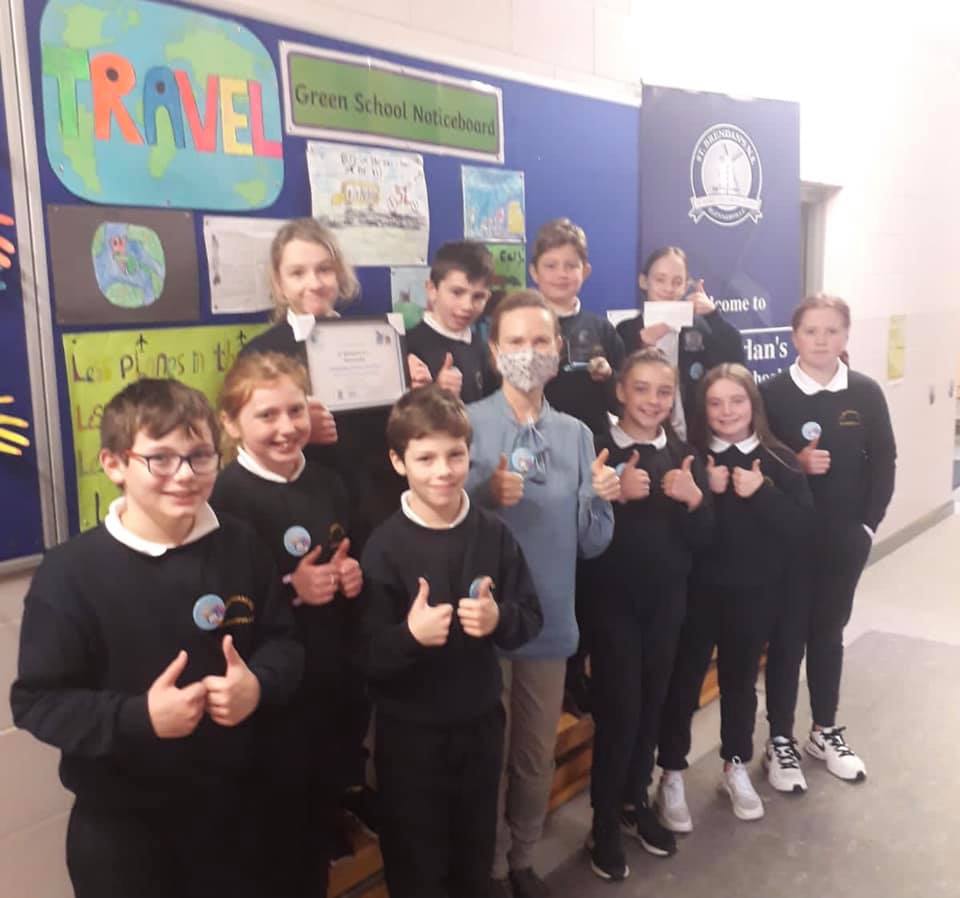 We are just thrilled to announce that our school has won the Carpooling school of the year award in the Greenschool Big Travel Challenge Award ceremony today. This took place live via a Zoom webinar and thanks to 5th class and Mr Foley for hosting and to the classes and families who tuned in and cheered us on. We could hear the shouts coming from upstairs! We opened the parcel that Greebschool's Rebecca sent us last week, during the event and were absolutely blown away to discover a trophy, a framed plaque and a cheque for €500! We will spend this on the Travel theme and how it is spent will be discussed at the next committee meeting.
We need to thank our amazing Greenschool inspector Angela Wall for being there for us at every stage of this Travel flag. Thanks to the children and parents for their enthusiasm and to principal Robbie O'Connell and staff for being so open to ideas, competitions and so kind in their genuine well wishes today. Thanks to every child who was ever on the committee and to everyone who is making small changes in their lives for the benefit of the environment.
Remember that small steps make a difference. Park and stride! When COVID ends, we can carpool again! Thank you everyone! From Miss Brassil.
AWARDS CEREMONY
If you would like to join us and watch the Greenschool Awards Ceremony on 11th November at 11am, click on this link below, and you will get an invite. You must enter an email and create a password for Hop in and it is all free. We are the 4th school to be on live. See you on the big screen with 5th class at 11am!
Here is the link: Greenschool Big Travel Awards Ceremony Link
BIG TRAVEL CHALLENGE AWARDS!
Oh my goodness. We received a call from Greenschools Ireland Rebecca on 3rd November 2020 to tell us that Blennerville school has been nominated for an award as part of the Big Travel Challenge! They are keeping a secret what award we are being nominated for. A parcel arrived to the school on 5th November and we were warned not to open it until the ceremony which will take place on Wednesday 11th November at 11am. We would like to invite anyone who wishes to view this with us on the day and I hope to put the link up here to the live event when I get it. It is an hour long ceremony and seeing as the children in the current 5th class did most of the work for this Travel flag, Ms Brassil will be sitting into Mr Foley's class on Wednesday and the children will take a break from school work to be part of the ceremony. Other classes are so welcome to watch too. I feel very humbled that our school even got a look in for a nomination and already want to thank Angela Wall for the work she did with us last year which was phenomenal. We really are thrilled at this honour. Thanks so much to An Taisce and Greenschools!
 We entered this competition last year when we made the huge effort to carpool- share a drive to school. I know we cannot carpool right now because of Covid but we can still help the environment by cycling or walking to school if you can! Thanks to everyone who carpooled and hopefully we will do it again in the future.
NEW COMMITTEE 2020-2021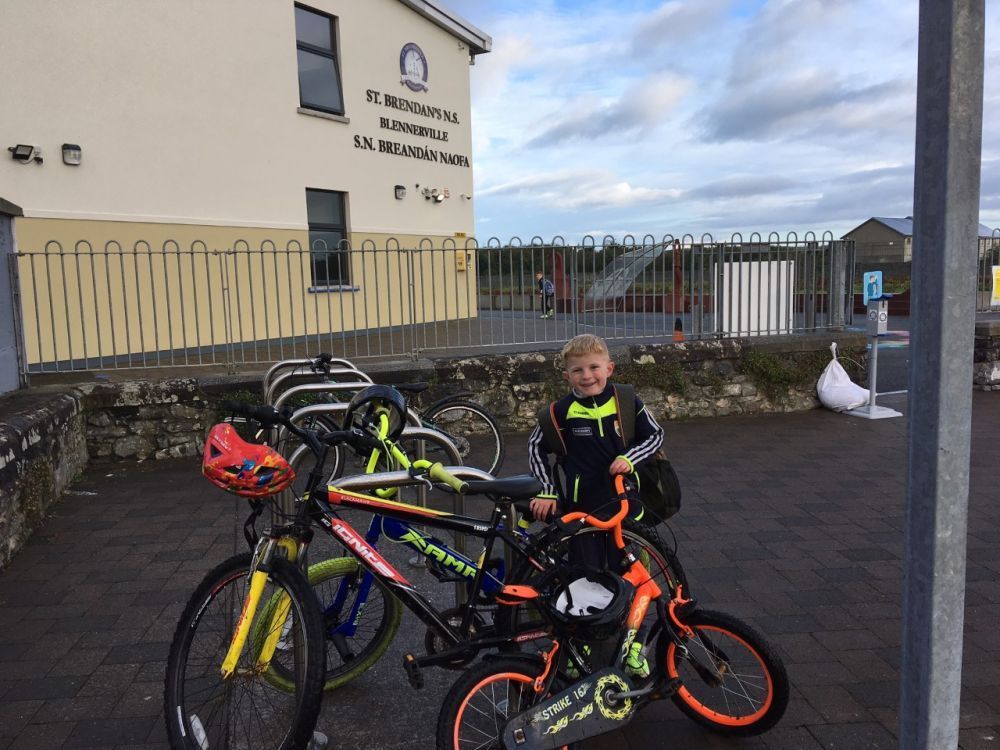 Here is Austin who has been cycling to school with his brothers and dad to school during September and October 2020. Well done to all the children and parents who have cycled daily. It's fantastic to see. Dylan and his Mom, and Iseult, Arthur and their dad deserve a mention for their consistancy in cycling daily too. 
Due to Covid, the Greenschool committee has had to adapt this year, in the second year of our Travel flag. We have decided to involve one class this year, to be the committee, which is Ms Doyle's 1st class. They will complete the Travel flag. Those children who were on the committee for Year 1 of the Travel flag will be allowed back on the committee once Covid is over and when we are allowed mix classes again. I know it's tough on those who put so much work in to the flag but I hope that we can celebtate as individual classes if we do achieve the new flag. 
JUNE 2020 CYCLE WEEK
Please click on CYCLE WEEK 2020 to see some of our children from Blennerville cycling during Cycle Week 2020. Cycle safely everyone!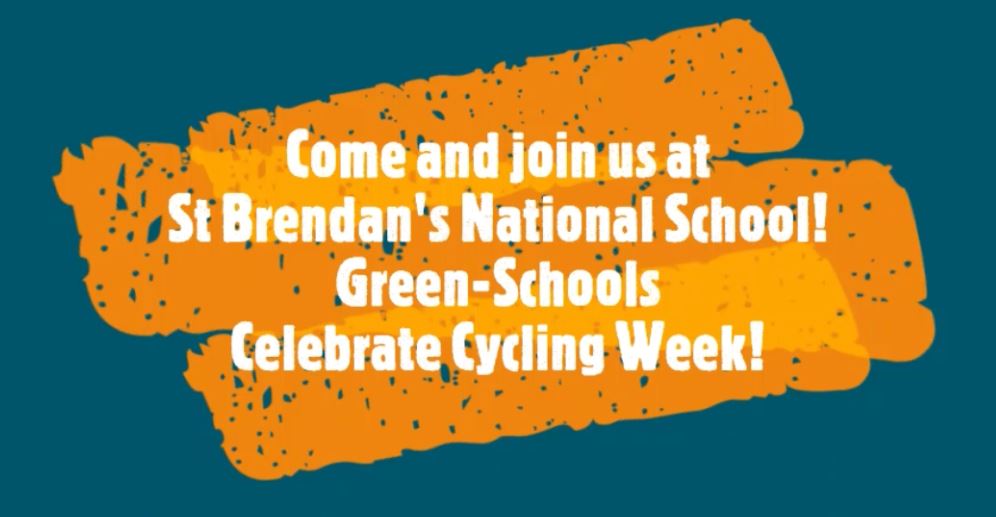 Well done to Olivia for learning to cycle without stabilisers.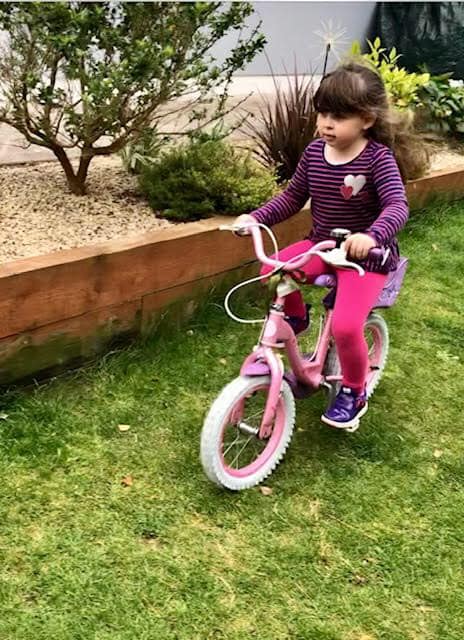 Well done to Sophia too!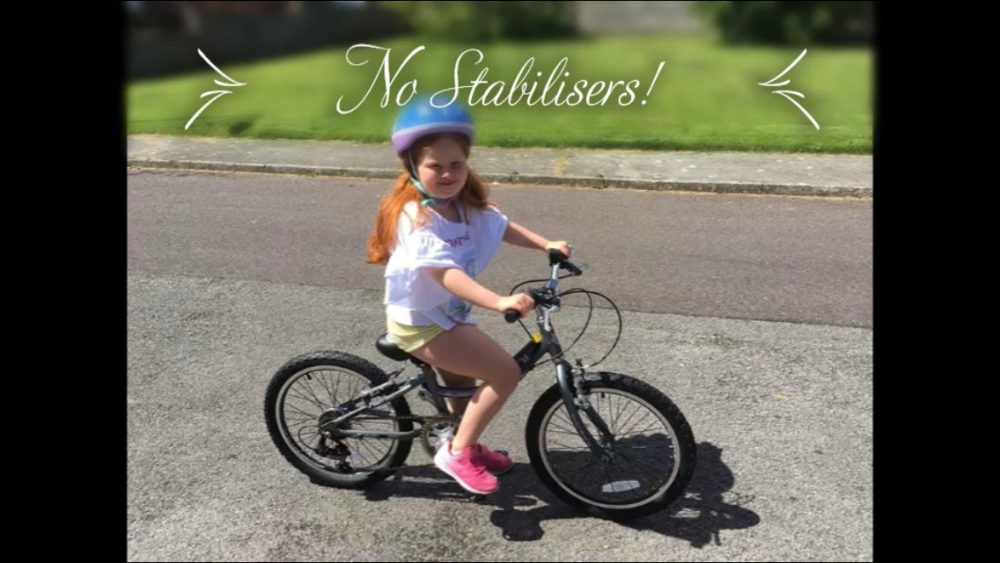 Well done to Saoirse!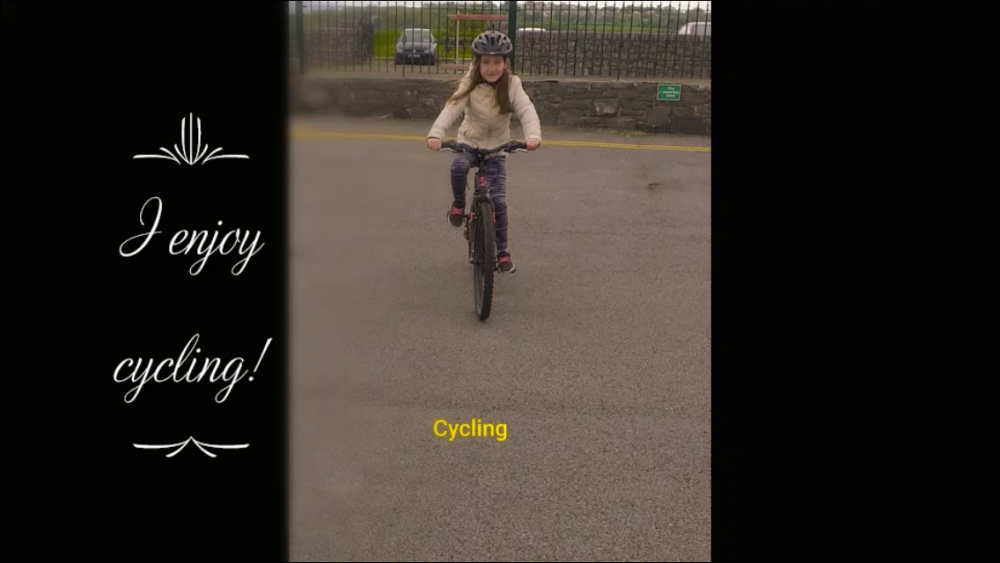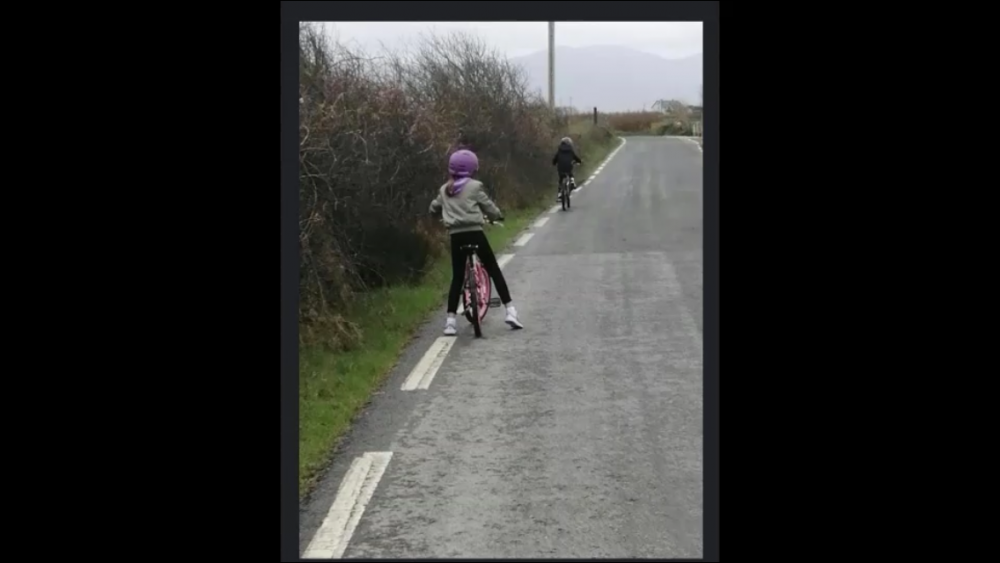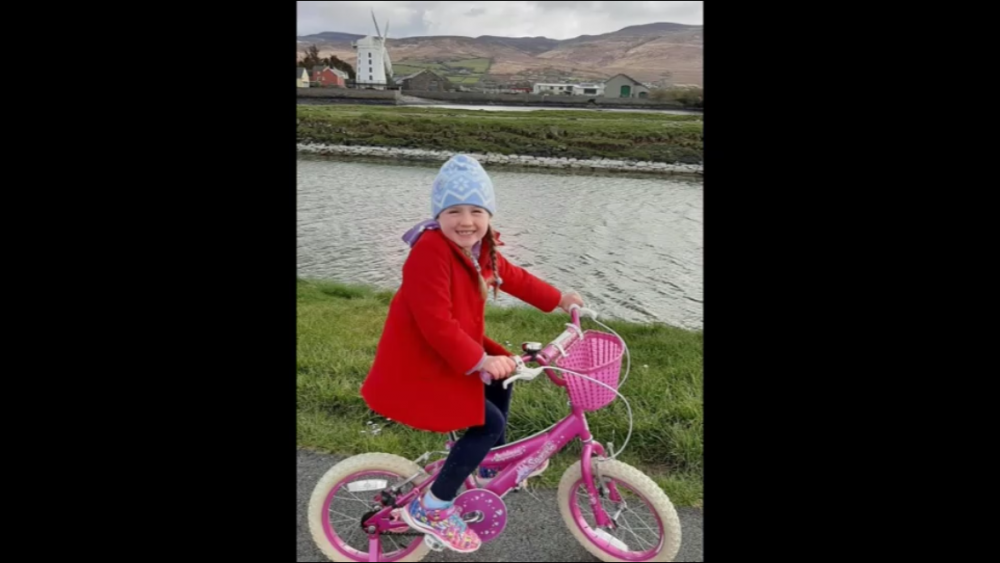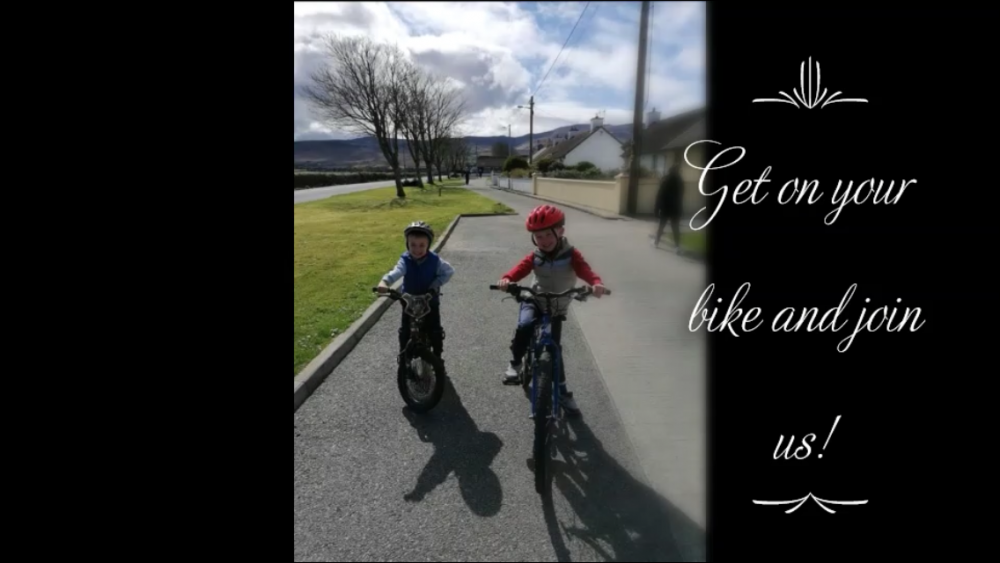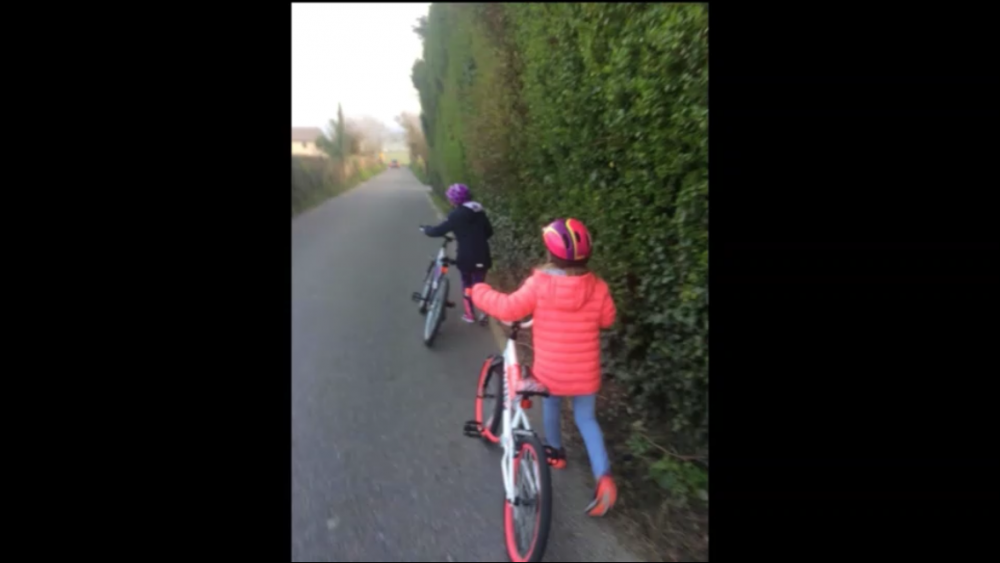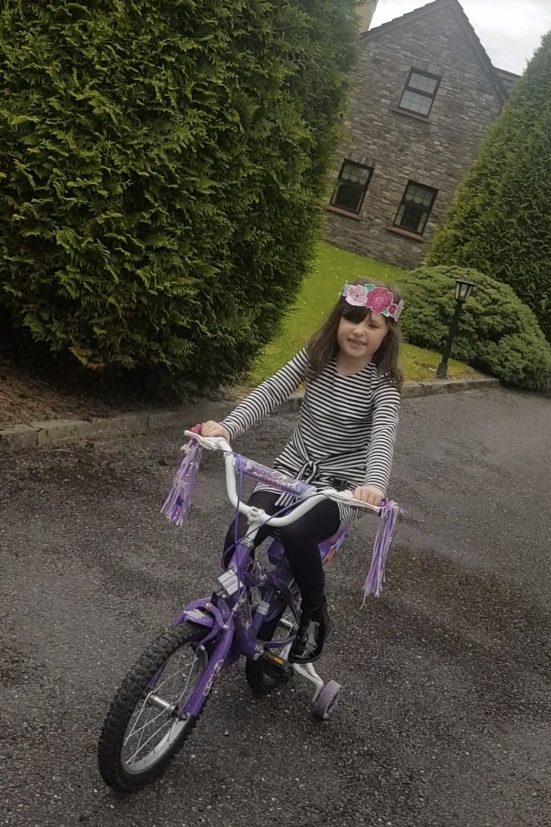 Lily-Ann from Senior Infants on her bike during June 2020.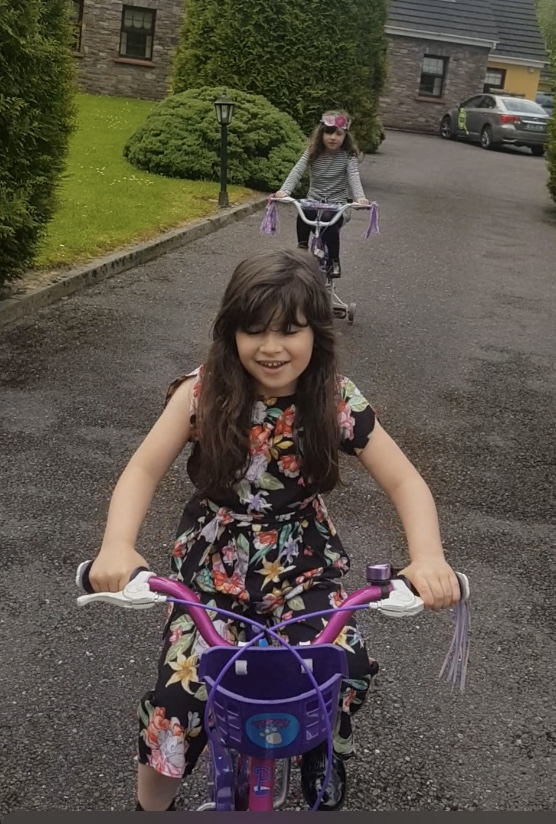 Abbey from Junior Infants cycling in June 2020. Well done girls!
THANK YOU EILEEN O'CONNOR
Thanks so much to parent and Senior Paediatric  Occupational Therapist Eileen O'Connor, OT Dept, Tralee and Cork Kerry Community Healthcare for sending us on the steps they use to teach kids how to learn to cycle by scooting first with pedals and stabilisers off. Huge thanks also to Ruth Herman of Cork Sports Partnership. Eileen has so kindly on previous Cycling Weeks come to the school and helped teach children to cycle in our school yard. Many children can thank Eileen for having learned to cycle, even after one session with her, they were scooting!
Eileen shared with us videos and much more which I share below:
Videos
Intro:            https://youtu.be/YsY5bG26sS4 
Helmet:       https://youtu.be/sIJ4FJbuIW4 
Bike Set up: https://youtu.be/LVW47QcwFeE 
Striding:      https://youtu.be/C0rIIs6oeFU
Gliding:        https://youtu.be/mpWvzgBo2uI
Braking:      https://youtu.be/YxLHPBhEoMA
Pedals:        https://youtu.be/nlef5JSNZoU
Pedalling:    https://youtu.be/SuVR5bqxzbw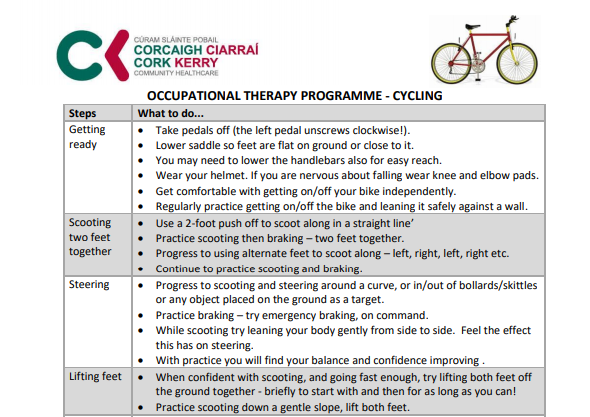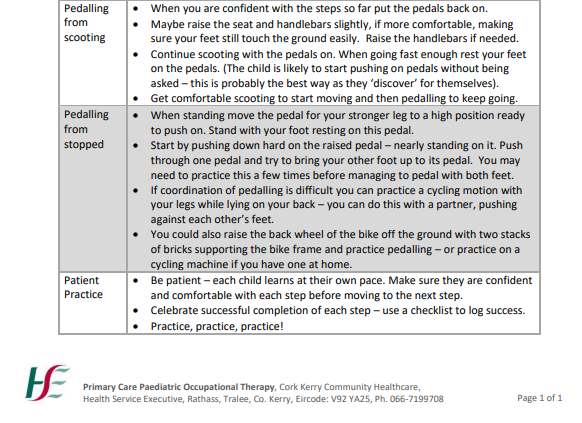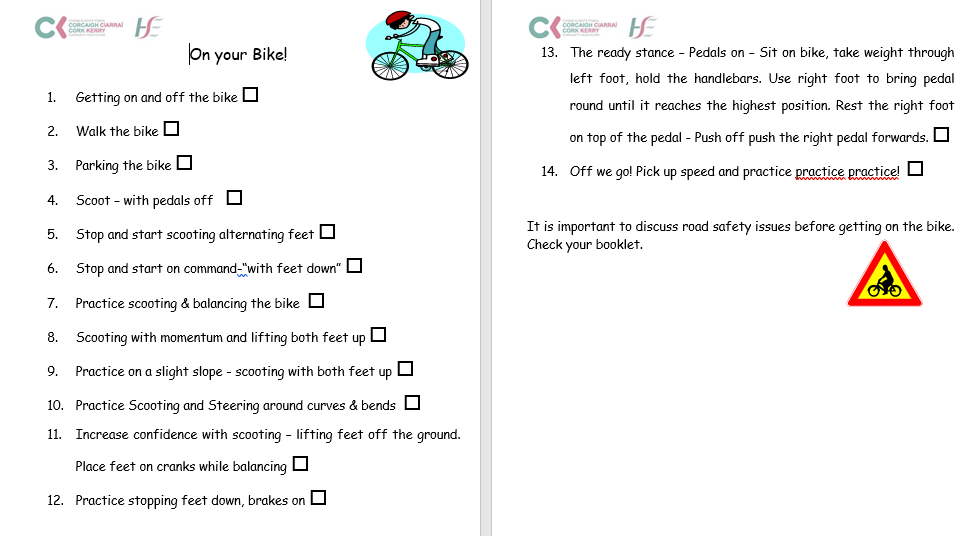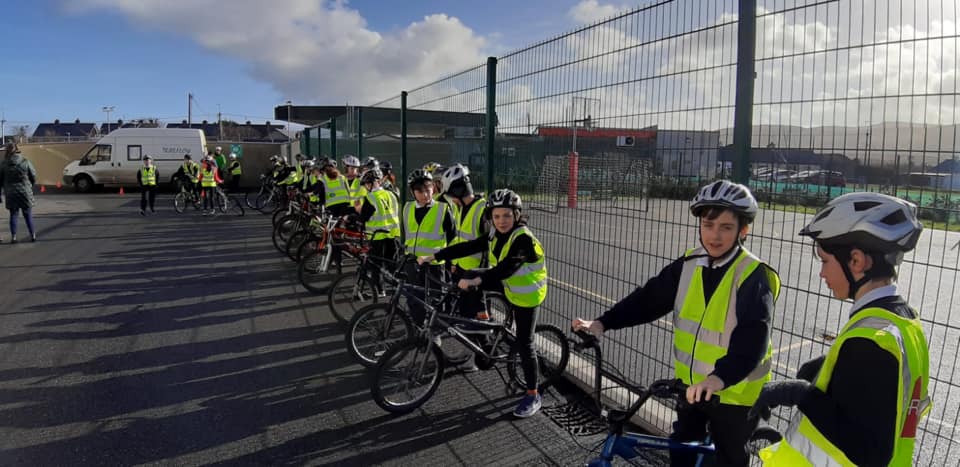 Calling all cyclists! Unfortunately, Bike Week is cancelled this year but Green-Schools Travel would still like to celebrate the week in someway so from the 15th to the 19th June, Greenschools Ireland are having a 'Celebrating Cycling' Week. Would any of you please be able to send me photos of you cycling? Or you could write for me about what you love about cycling, the positives and benefits etc. You could also draw a picture of cycling! This would be very much appreciated for our Travel flag, as we are so limited with what we can do at the moment. Please email This email address is being protected from spambots. You need JavaScript enabled to view it. with any photos, pictures or writing about cycling. Thank you.
MAY 2020
HIDDEN PLACES PROJECT
It's a strange time for us all not being able to be at school and I know many of us wish we were back in the classroom.
This time of the year, the Greenschool would be organising a Walk to School Week for our Transport Flag. So instead, Greenschools Ireland have come up with a lovely idea. It's to take a close look at your 2km-5km radius and take pictures or draw pictures of the wildlife, the plants, the hidden places other people may not have noticed before. Maybe other children can guess where your hidden place is!
Angela Wall our inspector has kindly shared her very own Hidden Places video with us.
Click ANGELA WALL to see her lovely video.
If you can put some  pictures or a video together, we would LOVE to see it. There is more information on GREENSCHOOL HIDDEN PLACES with a lovely little video a little girl made at the end of that page. Please have a look before you begin your own one as it'll give you great ideas. I'm really looking forward to seeing some of your pictures- even single photos would be fabulous! Please message your pictures or videos directly to Messenger on the Blennerville NS Facebook Page or to This email address is being protected from spambots. You need JavaScript enabled to view it. Thank you!
Bee Feeder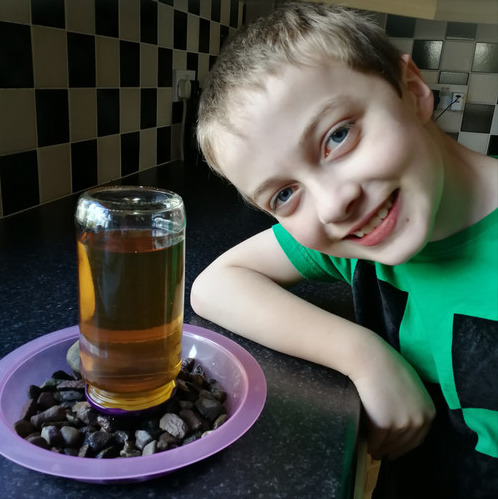 Ms Sorcha Ryan's 3rd class were given an assignment during the Covid 19 closure to make a bee feeder. Here are the directions in case you would like to make one too like Isaac in the photo. What a lovely thing to do! Bees are SO important.
Instructions for a Bee Feeder enjoy:
You will Need:
A glass jar with a lid
An old bowl or tray (not too big, but big enough for the jar to fit in)
Some clean pebbles and small stones
Sugar and Boiling Water

In the lids of your jar make 5 or 6 holes (you may need adult help for this)
Fill your jar half way with sugar and the rest with boiling water - ask an adult to put in the boiling water. Give it a stir to dissolve the sugar and allow to cool.
In your bowl/tray place a layer of clean pebbles and a couple of small stones.
When liquid in your jar is cooled put the jar upside down on your bowl/tray so that the liquid spills out onto the pebbles.
Place your Bee Feeder in your garden (Preferable in an elevated spot) away from your house, so that you can see them but they won't come into the house.
How to Save the Planet
5th and 6th class wrote en essay as homework during March 2020 entitled 'How to Save the Planet'. Children did a lot of research into it and came up with very hopeful ideas and plans for us as a world to save the environment. Well done to all. The future is bright!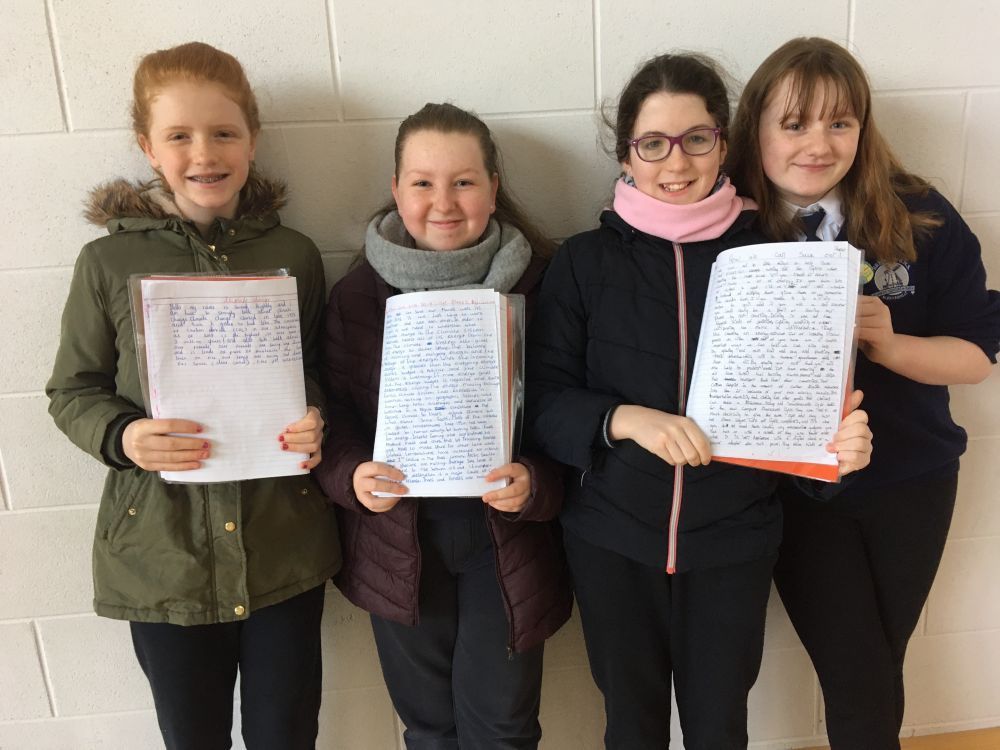 Recycled Project
5th and 6th class had homework during March to make someting from recycling materials. Then they had to stand in front og the class and explain what they made and how they made it. It was a great experience for the children involved and a good laugh too. Click here for photos.
Angela Visit
Thanks to Angela Wall, our ever helpful Greenschool Inspector who addressed the committee on 4th March 2020 to discuss our Walkability Review that we did with her before Christmas. We are preparing a review to send to the Council pointing out things we think need looking at for safety reasons. We also discussed ideas other schools have done to promote travel. 
We now need to get our Action Plan on paper, so at the next meeting, we will get paper and pencils and write down all our travel ideas before selecting the best ideas for the next 2 years. Date of next meeting to be announced soon. Keep looking at this website for updates. Date for the diary- Spring Clean will be in April.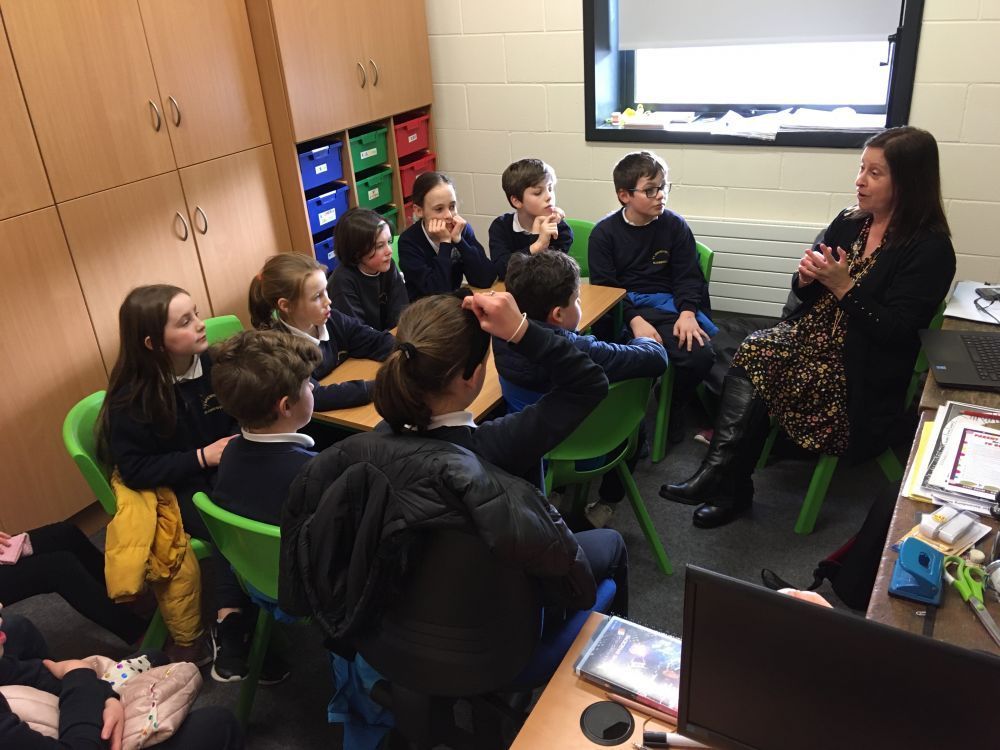 Save the Bees Campaign
We need your help again everyone! We are taking part in the Save the Bees Campaign in conjunction with SuperValu stores. They have sent us this gigantic wall chart which some Junior Infants had fun holding up in this picture and we need your help to fill it with tokens which you can get when you shop in any Supervalu shop. We have lesson plans for classes and posters of bees. One third of our food is pollinated by bees and sadly 30% of our Irish bees are in danger of becoming extinct and we want to stop this happening because bees are really important in our ecosystem for pollination of all plants and flowers. We can be in with a chance of winning or sharing in €50,000 if we can get this chart completed before 14th May 2020. Please help us get from 1 to 300 so we can enter this terrific competition. Thanks everyone!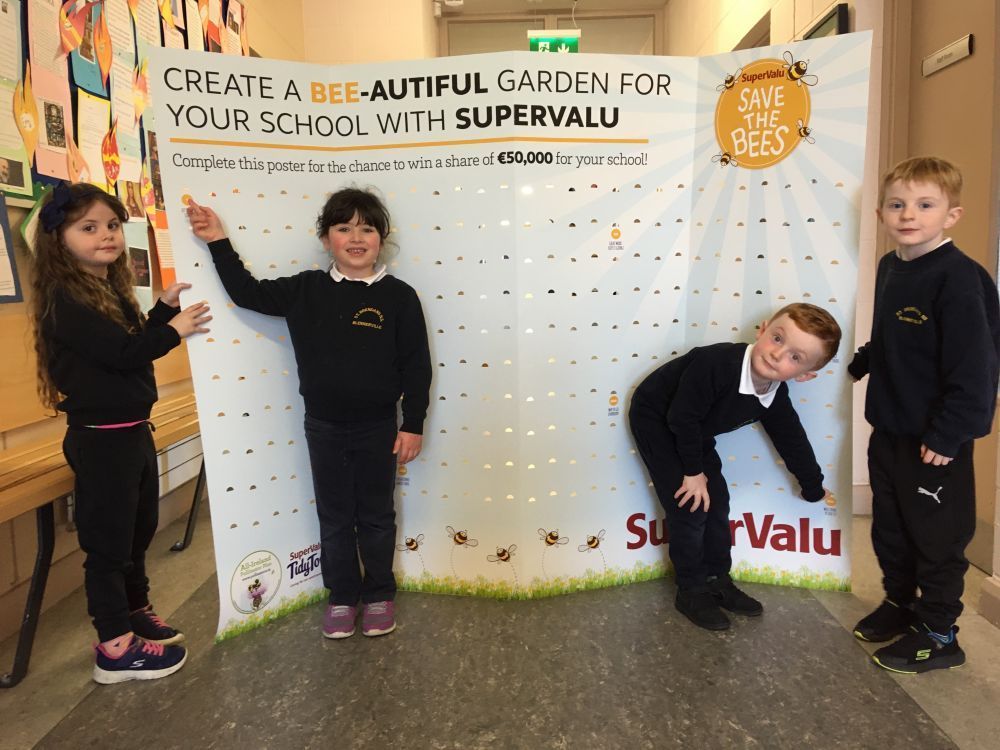 Carpooling Big Travel Challenge
We posted off our entry for the Big Travel Challenge during the last week of February and awarded special carpooling badges to the younger classes. Here are two photos. The great news is that we made a huge effort and some families are even continuing to carpool now that the big push to carpool is over so well done to everyone who carpooled and is still doing it!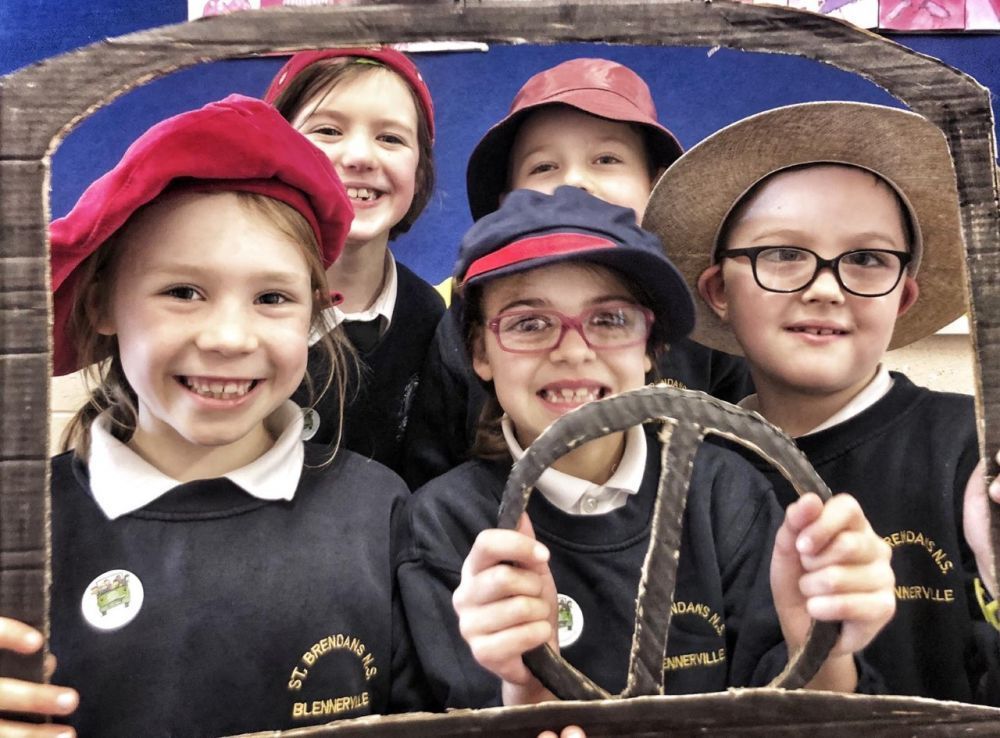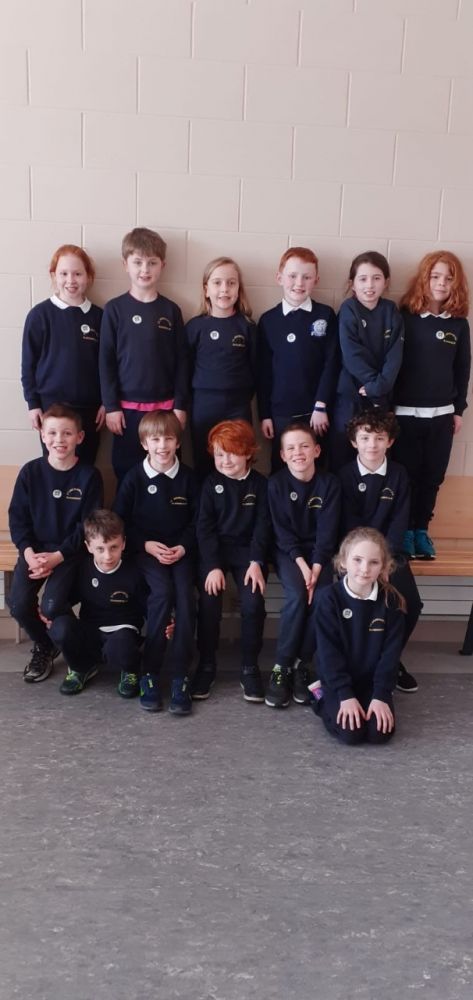 Towels from Recycled Plastic!
Thanks to Greenschool committee member Hannah O'Sullivan who got her mom to take this photo of towels she saw for sale in Garvey's Supervalu Tralee made from recycled plastic bottles. Well spotted Hannah!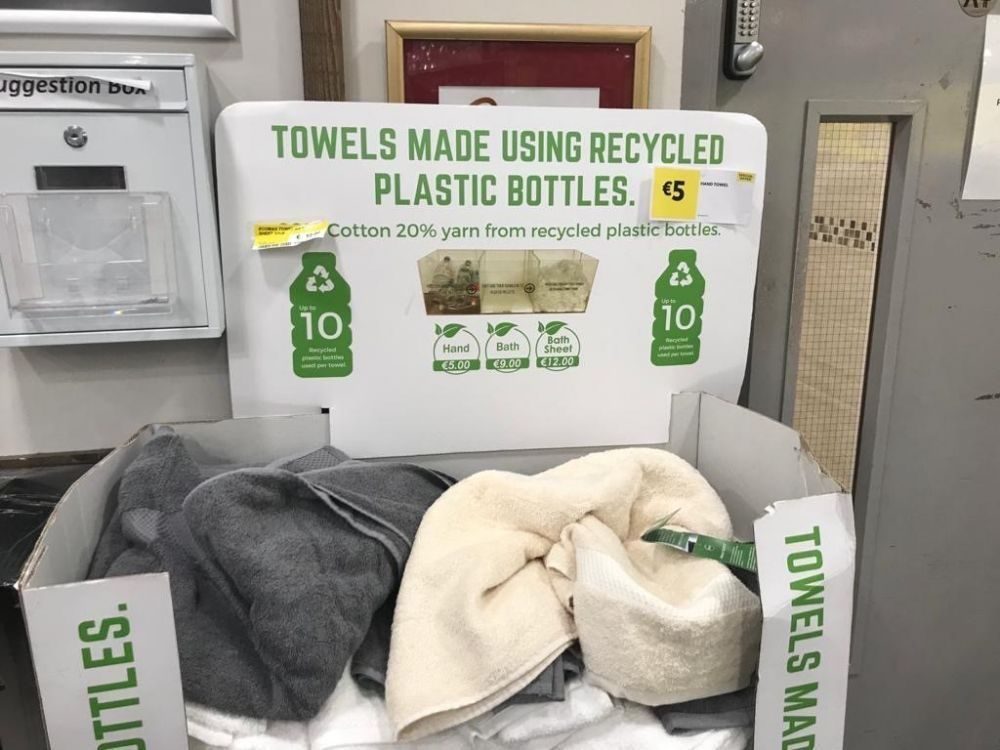 Planting
Mrs Liz O'Connor's class planted Nasturtiums during February. What a lovely thing to do on a cold February day. Let's hope they bloom in a few weeks time and we can watch them grow.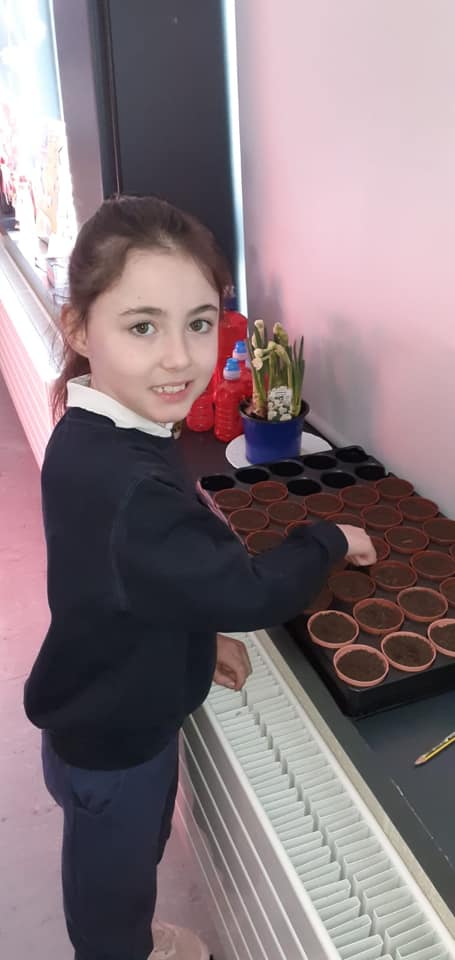 Water Poster Winners
Well done to our 3 winners in the Greenschool Water Poster competition. One winner was chosen from the 3 classes who entered and all children who entered received a little prize thanks to Angela Wall of Greenschools and our Elder Greenschool Committee who presented and judged the entries on 18/02/2020. Cyprian was judged to be the overall winner and he won a new cycling helmet. Lily and Emily won Greenschool pencil cases and water bottles. Thank you to everyone who entered. Here is just a small selection from the high standards the committee had to choose from. These winning posters will now go on to the national competition.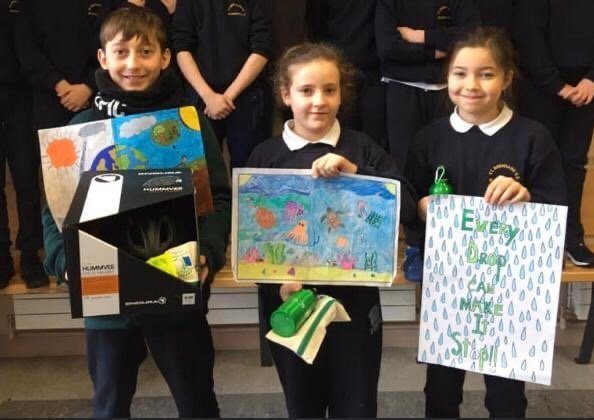 Cappabue Rap
Please have a look at this Primary School's rap called One Small Change. It is just terrific! Click RAP to watch it.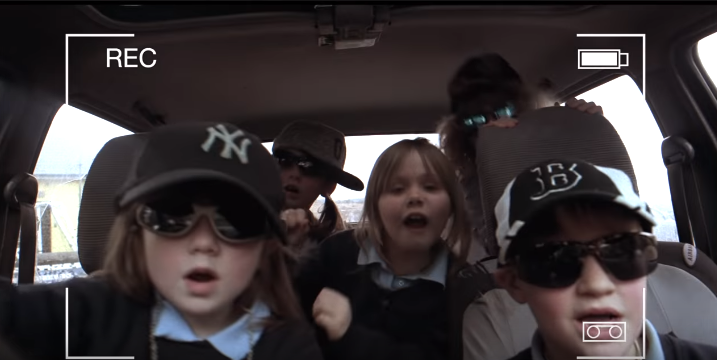 Next Inspector Visit
Our Greenschool inspector, Angela Wall  will address the Travel Committee at 11:45am on 4th March 2020. If you are in 3rd or 5th class and gone swimming, that is ok. Ms Brassil will let you know what you miss.
Cycle Right
Thanks so much to Leif and Jay on 4th February 2020, who took our 5th and 6th classes outside for the first of 4 sessions for Cycle Right. We heard about this project through our Greenschool inspector Angela Wall and it ties in beautifully to our Travel flag. The qualified instructors are from Trailflow, and they bring bikes, helmets , high visibility gear and promote correct and safe cycling during their sessions. They were so accommodating and took those who needed it for individual time. Leif told children that if they listened well at Cycle Right, that they would have a head start on rules of the road for their driving tests in the future which may not be all that far away! He stressed the importance of protecting our brains, hence the strict rules on helmets. It was a thoroughly enjoyable afternoon and we thank Leif, Jay, Ms Moriarty and Anne-Marie Scott and to our Greenschool inspector Angela Wall for calling by and taking some terrific photos for us.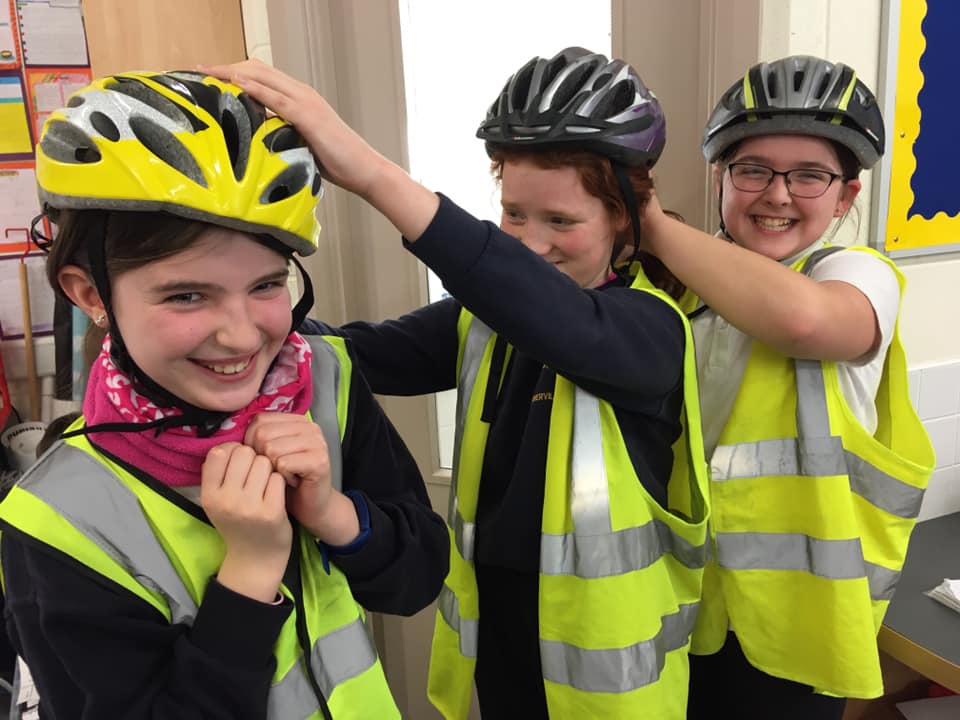 More Carpooling!
Well done to the O'Sullivan family and Isaac for carpooling to school during our Carpooling fortnight. Ye are making such an effort. Looking forward to seeing more photos over the next fortnight.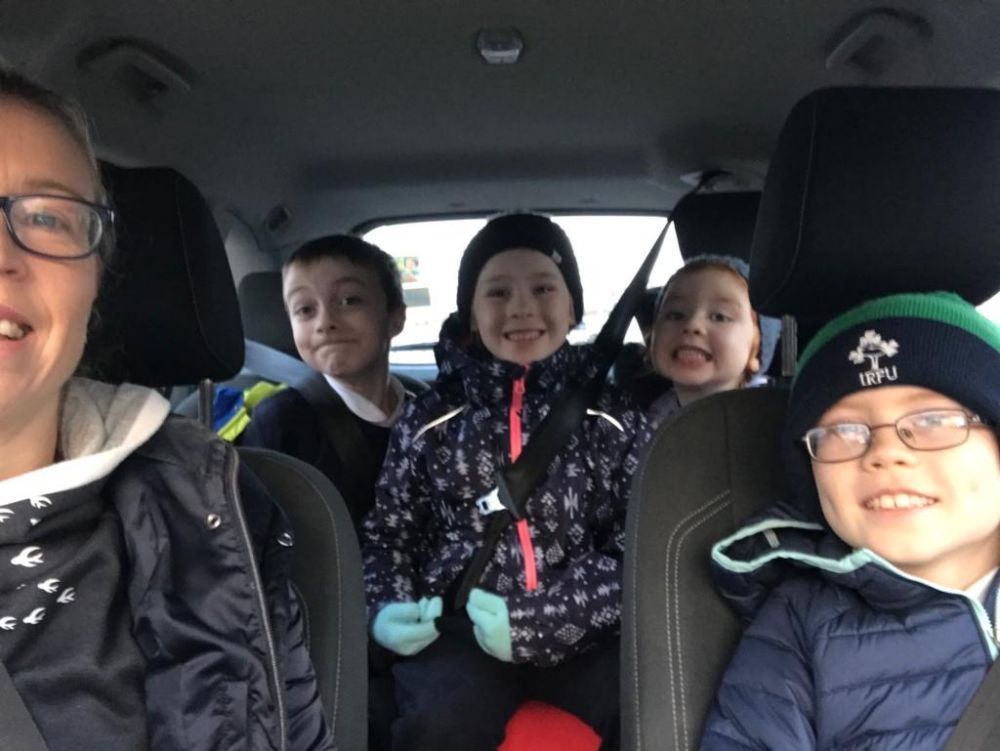 Carpooling
Thanks to the Costello and Higgins families for getting our carpooling fortnight off to a great start! We are trying to make an effort with carpooling during the first 2 weeks of February 2020.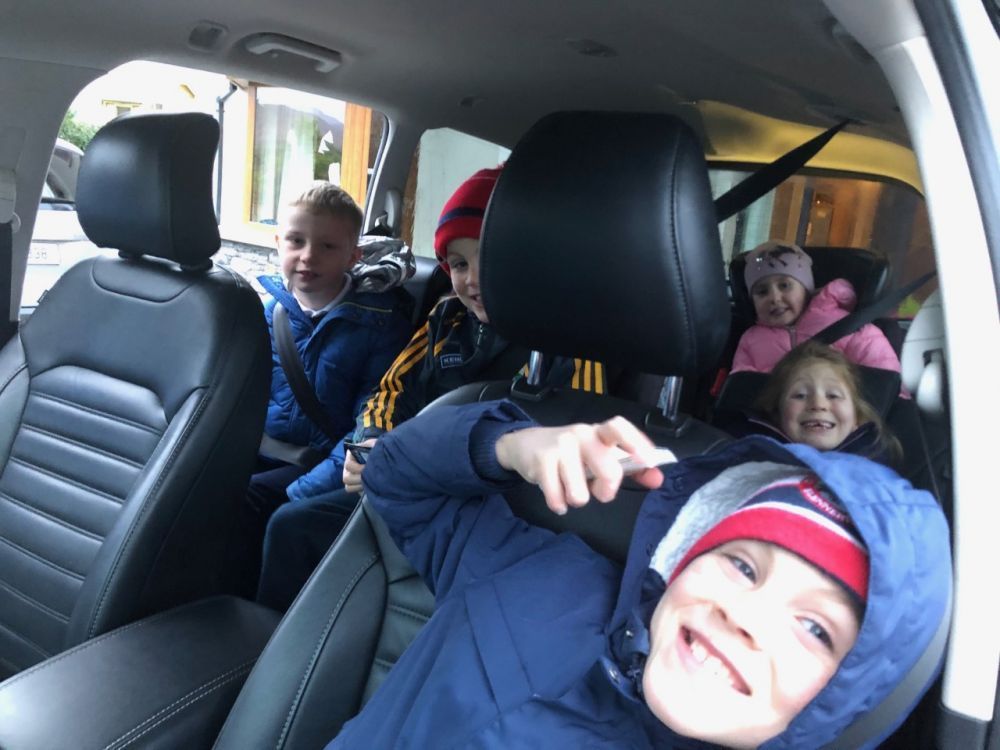 Minutes of Meeting 31/01/2020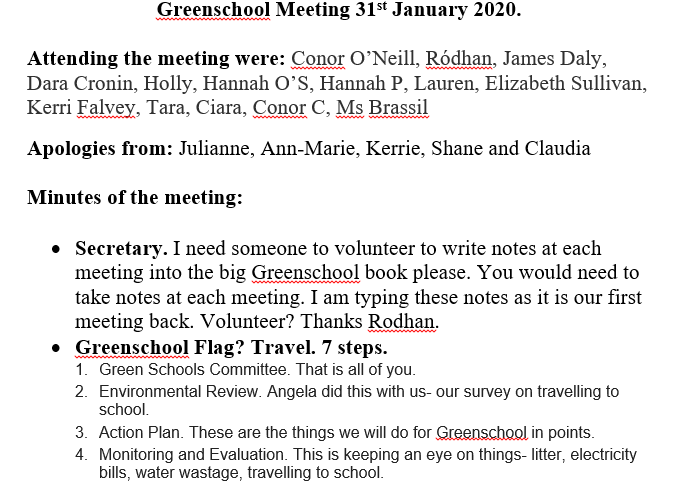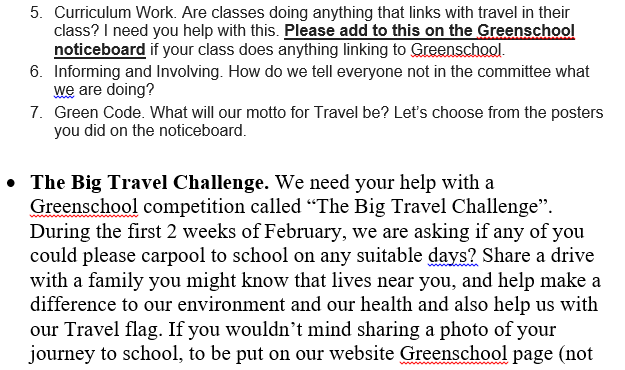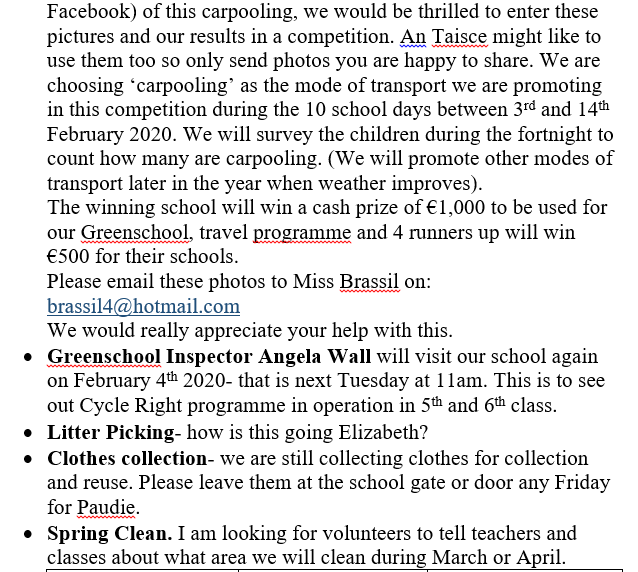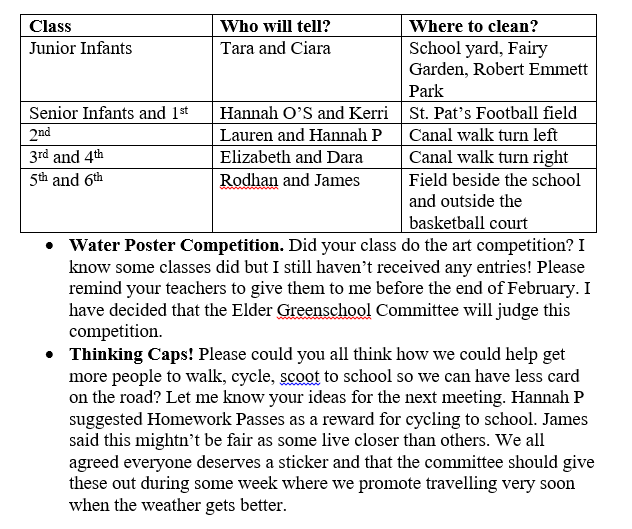 Thanks to all who attended and spoke at the meeting.
News
We will be having a visit from our inspector Angela Wall on Tuesday 4th February at 11am.
Big Travel Challenge (February 2020)
We need your help with a Greenschool competition called "The Big Travel Challenge".
During the first 2 weeks of February, we are asking if any of you could please carpool to school on any suitable days? Share a drive with a family you might know that lives near you, and help make a difference to our environment and our health and also help us with our Travel flag.
If you wouldn't mind sharing a photo of your journey to school, to be put on our website Greenschool page (not Facebook) of this carpooling, we would be thrilled to enter these pictures and our results in a competition. An Taisce might like to use them too so only send photos you are happy to share.
We are choosing 'carpooling' as the mode of transport we are promoting in this competition during the 10 school days between 3rd and 14th February 2020. We will survey the children during the fortnight to count how many are carpooling. (We will promote other modes of transport later in the year when weather improves).
The winning school will win a cash prize of €1,000 to be used for our Greenschool, travel programme and 4 runners up will win €500 for their schools.
Please email these photos to Miss Brassil on: This email address is being protected from spambots. You need JavaScript enabled to view it.
We would really appreciate your help with this.
Thank you everyone!
Results Are In!
These are the results from the 'Where do you live?' survey. These results were put together for us thanks to Angela Wall of Green-schools. What a fantastic job she did. Thank you to everyone who filled in and returned the map.
See if you can find where you live on the map and see how many children live near you. We hope to begin a Cycle Bus once the weather improves and mornings get brighter. This map shows a proposed cycle route.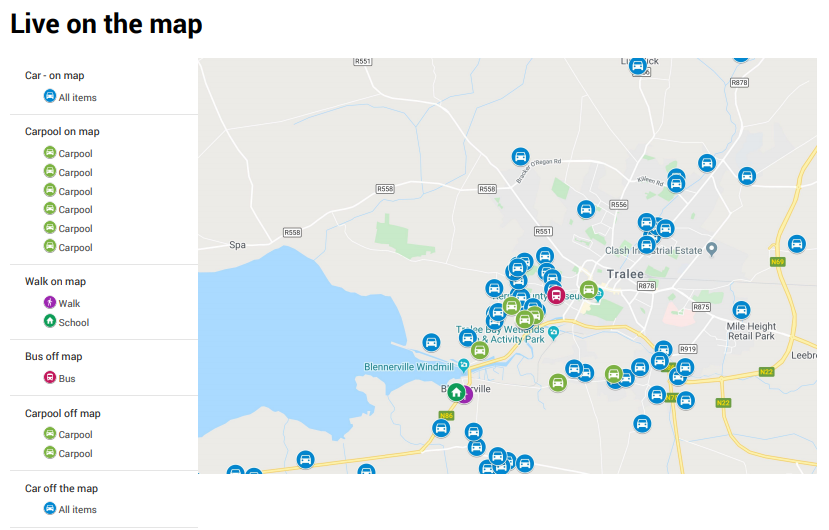 This map below shows you where we all live.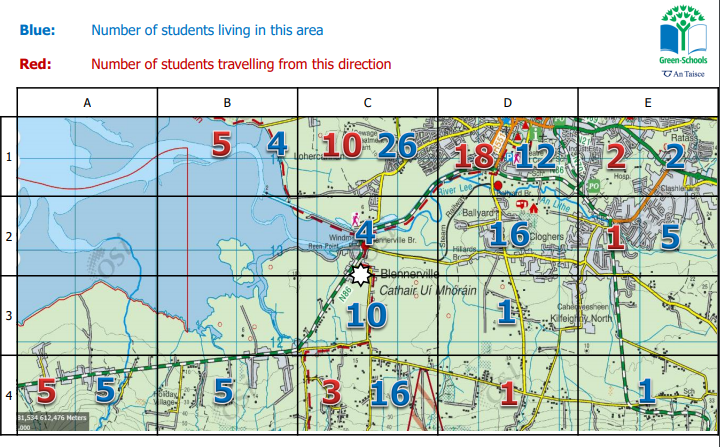 Finally here are the results from each class surveyed of where they live on the map: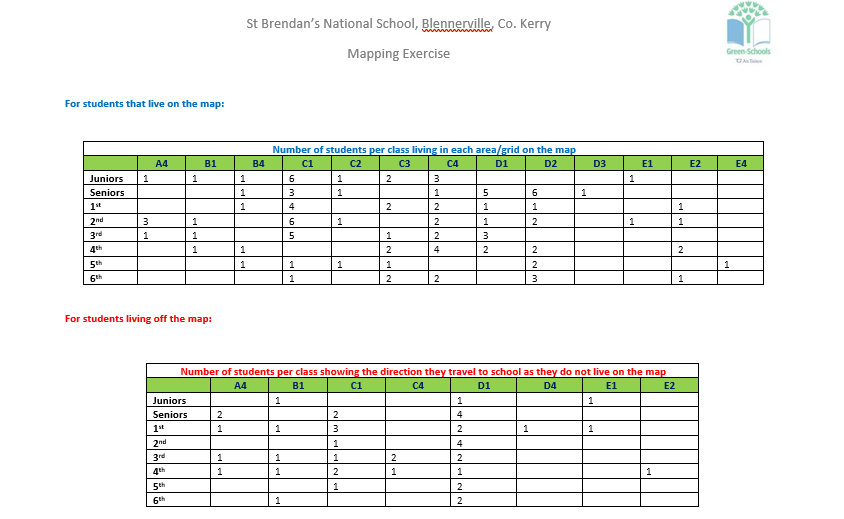 Walkability Audit 20/11/2019
Today we had a fabulous morning with Angela Wall of An Taisce, Green-school. We were joined by parent (Lauren's Mom)  Julianne and the Travel Committee. Angela divided us up and gave us all clipboards and jobs.
1. Measuring footpaths was done with the aid of a measuring tape by engineers of the future James, Dara and Ródhan. They did a phenomenal job and found that footpath widths really varied throughout the village.
2. Road signs.  This survey was done by Kerri and Hannah O'S who did a tally of road signs in the village and they even noted signs that were not on the list.
3. Passing traffic tally. This was done so well by Conor, Shane and Tara. There was a LOT of traffic to count.
4. Things to note. Along the route, Lauren, Hannah P and Julianne wrote down any observations along the way. They did a super job filling an entire page.
5. Problems and issues. Well done to Elizabeth and Claudia who took notes of any problems along our walk such as window ledges jutting out and a pole in the middle of a footpath which people could crash into so easily.
6. Litter and waste audit. This was done by Ciara H and Holly who noted a LOT of plastic bottles along the route and many tin cans too.
7. Feedback. This was done singlehandedly by Conor C who answered a series of yes and no questions about footpaths and roads after the walk was complete.He looked at cracks on footpaths and ramps and steps.
The committee were pleased in general with our clean air and the safety of the school. It is well fenced and there is a pedestrian crossing which we timed crossing and the settings on it are correct to allow you to cross in time. However, we found the crossing at the station house, the green man is broken for crossing. We found lots of cracks in the pavement outside the windmill along that path. We thought that traffic was driving a little fast and Julianne observed on many occasions, speeding in our set-down area. Angela promised she would return to us in February with a speed gun so we can act like guards for a day and check the speed of passing traffic. It sounds like a lot of fun! We are really looking forward to Angela's return then. All members were presented with a Greenschool badge and Angela gave Ms Brassil lots of prizes that we will award for the Water Poster competition. We will have in-school prizes and then post one from each class off to represent the school in the national competition. There is a fabulous black cycling helmet up for grabs. So children be sure to remind your teachers to enter it. Tell them the template is in the staffroom. 
Click walkability to see all the photos from the day.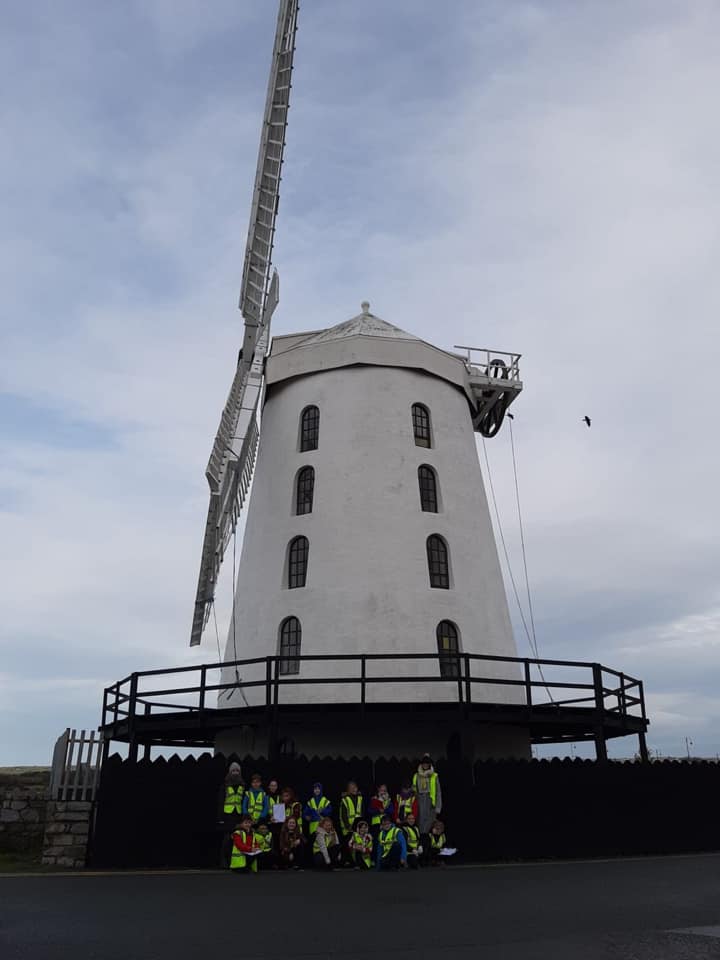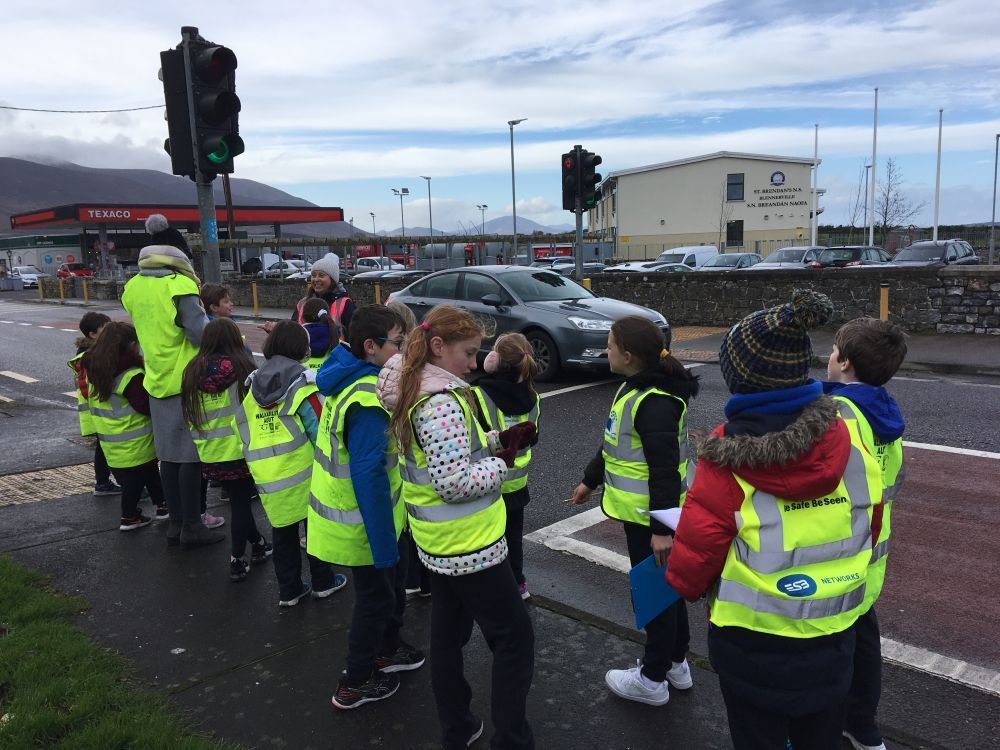 Here are the prizes for the Water Poster art competition on offer. Thanks to Angela for these and also to Garda Mary Gardiner for the Stay Safe Be Seen items which we will also award as prizes for this competition.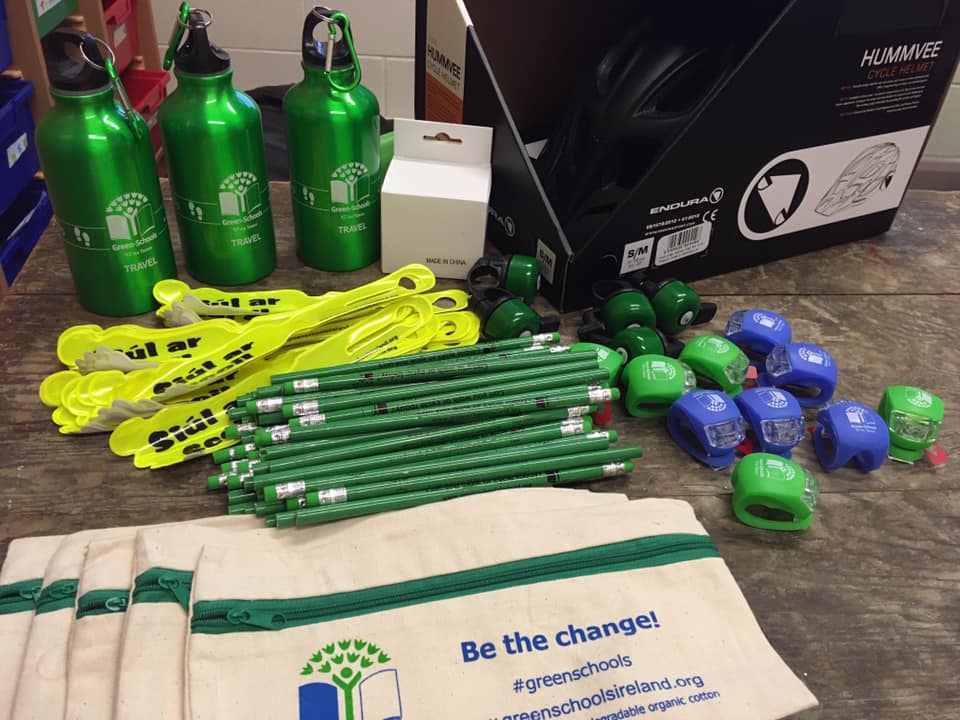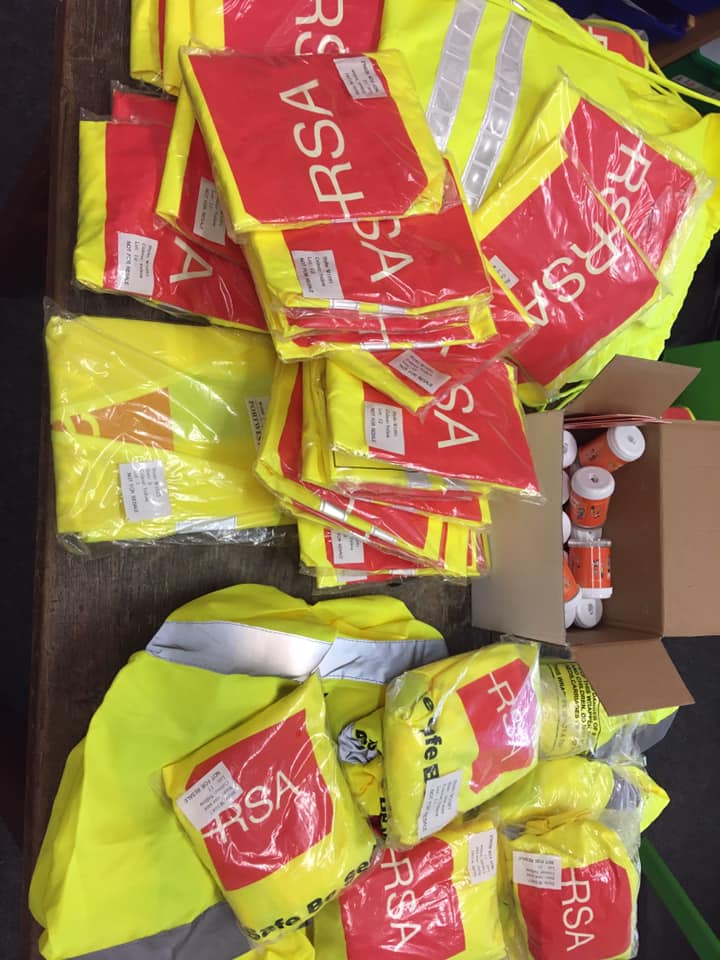 Water Poster Art Competition
There is a wonderful art competition based around the Water Greenschool theme with wonderful prizes. Apologies the poster is sideways but it refuses to go in upright! Just tilt your head! A template will be left in the staffroom for all teachers. Please ask your teacher if you can enter this for an art lesson some day before the end of February so Ms Brassil can post these off. We have always entered this competition and hopefully one day we will have a winner! So get those colouring pencils out everyone!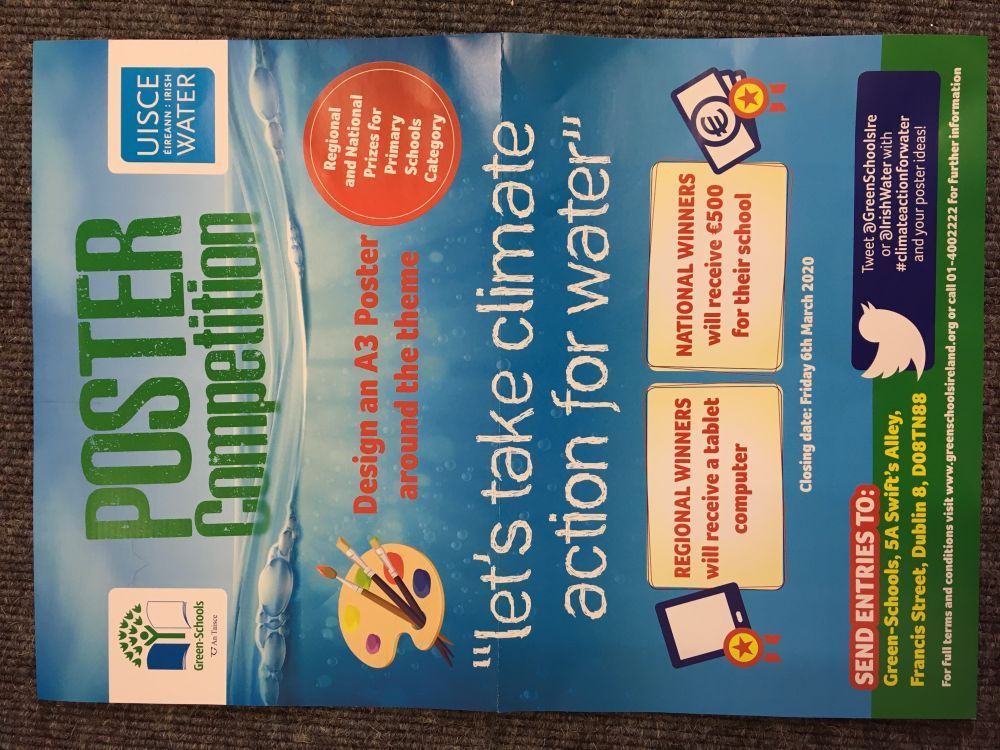 Clean Air Week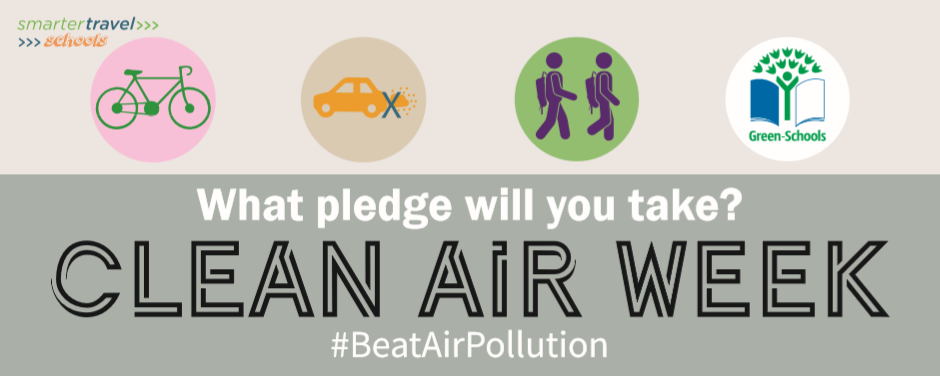 It is Clean Air Week from 18th to 22nd November 2019. We could do a number of things- we could start a 'no idling' campaign outside our school gate, or we could cycle or walk to school instead of making more trips in cars, or we could have a car free zone at the school gate! If any children in the school can make an effort at making the air cleaner by doing any of these things or anything you can think of yourself, please take a photograph and send it to Ms Brassil This email address is being protected from spambots. You need JavaScript enabled to view it. and you will be entered into a competition! Maybe you could take a picture of you walking or cycling to school. Let's make a difference everyone. Here is a little bit of information on how we could help with idling which is being in a car that is switched on but not moving anywhere. Engines should be switched off if not in use, as the emissions (smoke) cause air pollution.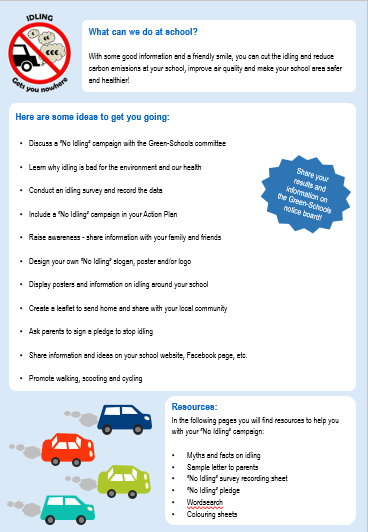 Travel Committee Meeting
There is a slight change to the Travel Committee meeting. It will now take place on Wednesday 20th November with Angela Wall from 11am to 12:30pm. Parents of committee members are welcome to join us for this if they wish. This is a week later than scheduled.
Travel Survey Results
News just in! Thanks to Angela Wall for co-ordinating the survey results for us. They are very interesting. A map is being sent home to all families on 5/11/19 to enquire about where you live with the view to starting a cycle bus to school, if possible and if safety allows. Please find this survey in the schoolbags and return it by Friday 8th November. Thanks everyone.
 Here are the results from 24th October 2019.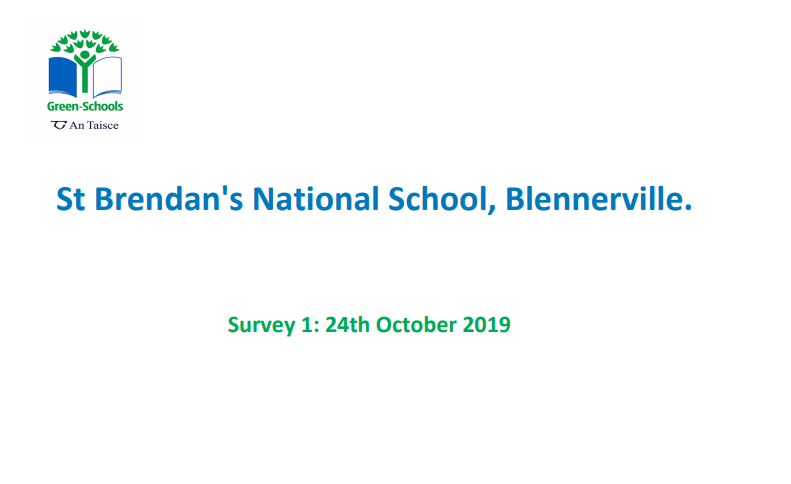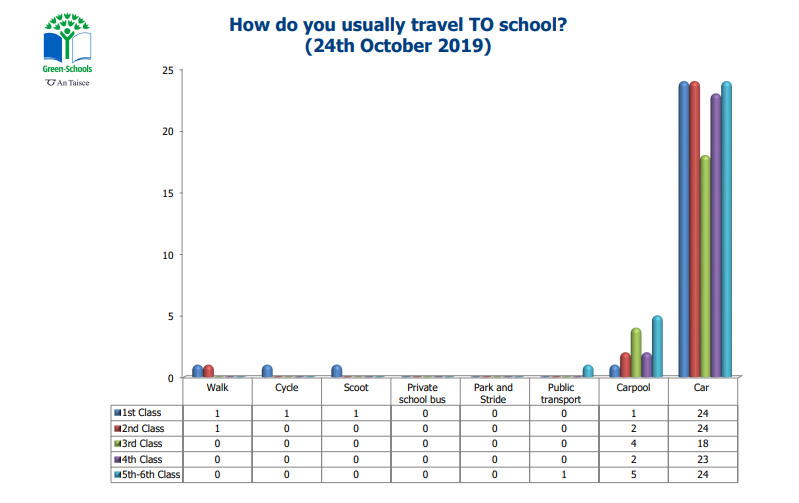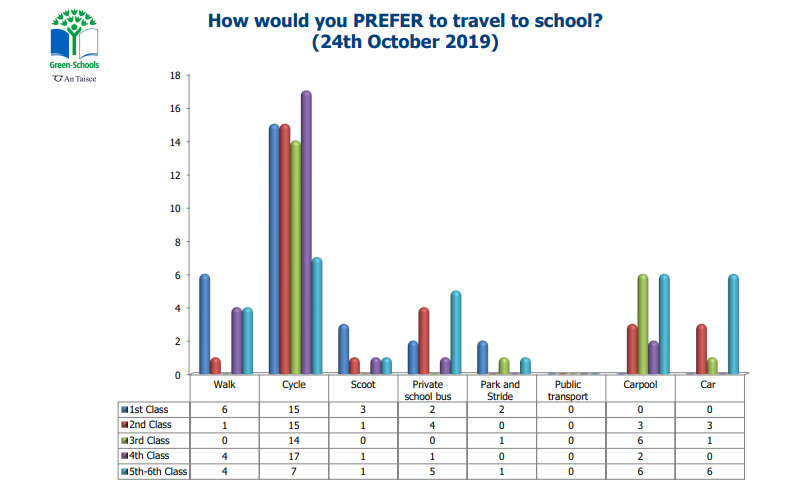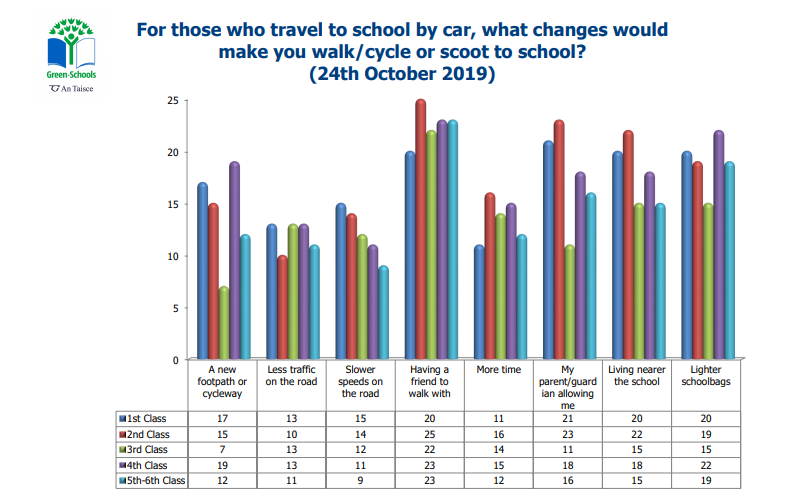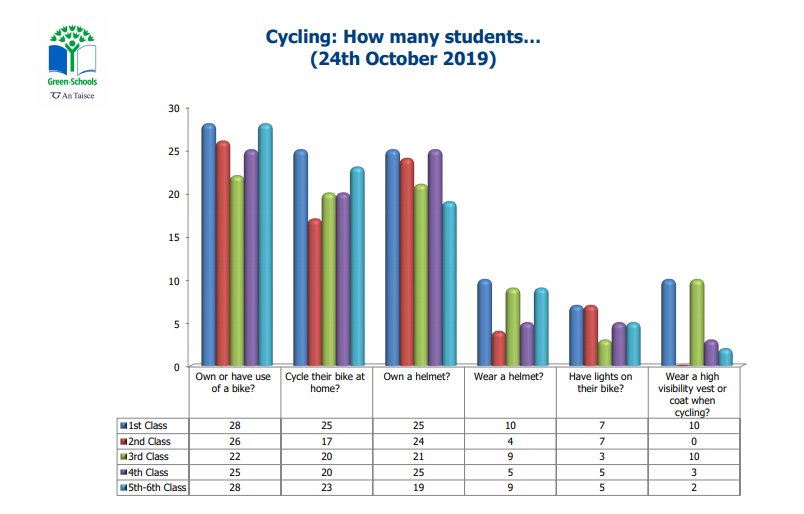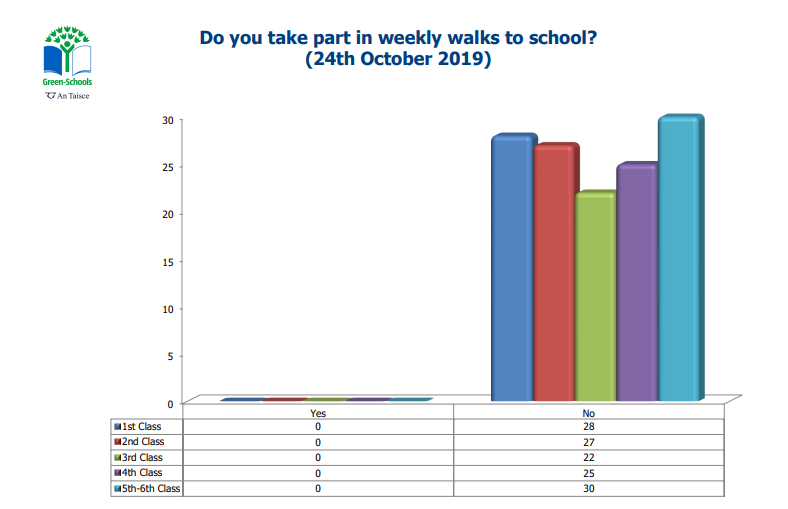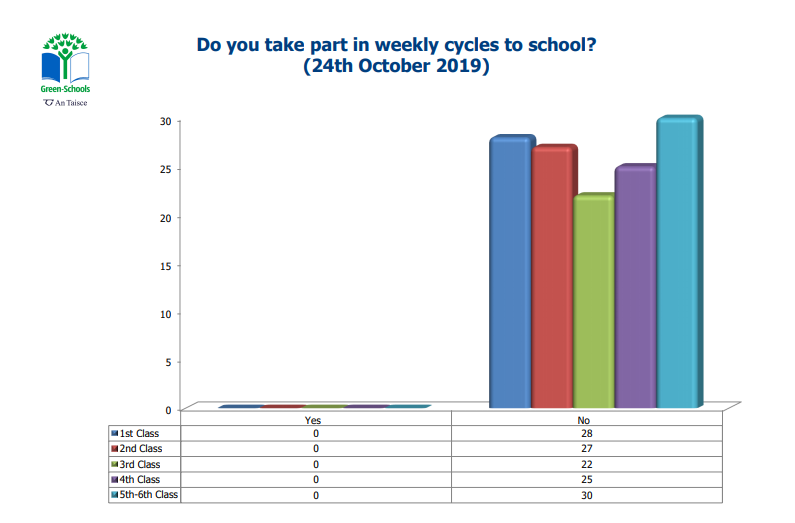 Angela Visits Us
Thank you so much to Angela Wall from Greenschools An Taisce for speaking to our 1st to 6th classes on 24th October 2019. Angela is our Greenschool inspector and is helping us correlate our Greenschool Travel survey results which she did through questioning the children today about the way they travel to school and how they would like to travel. Thank you Angela! See you again on 13th November with the Travel Committee at 11am. If any parents of committee children are free to join us on this date and time, that would be terrific.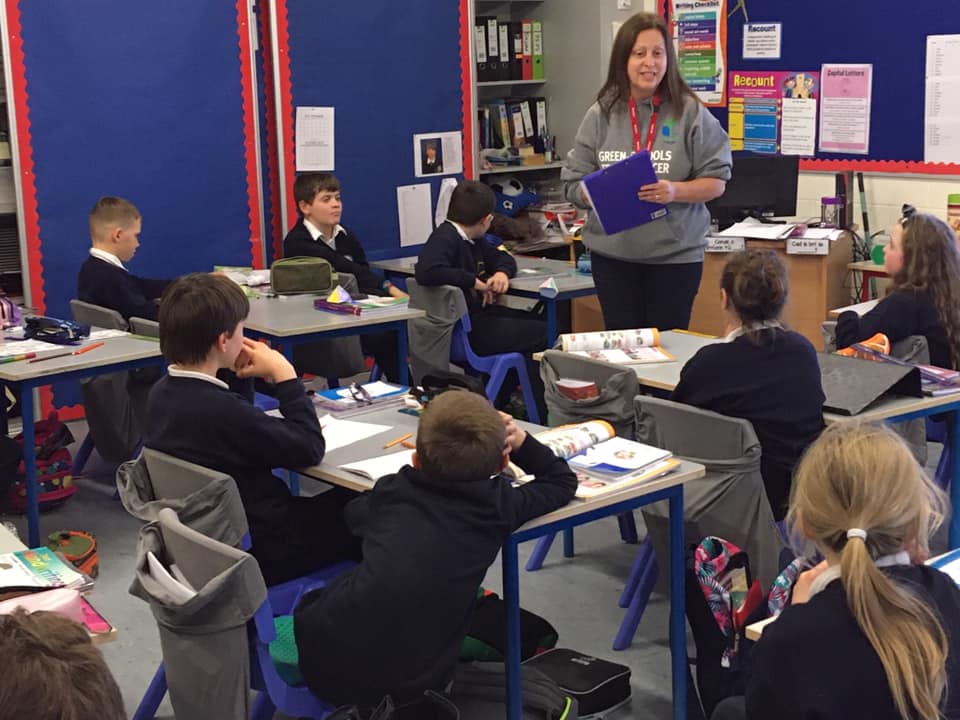 Witches Recycled
Witch making in Ms Roisin Doyle's 1st class using recyclables, fabric and fibre on 24th October 2019. This is very much in-keeping with our Greenschool! Well done Miss Doyle's class. Please click here to see an interesting article on items you can and can't recycle. Thanks to Ms Ryan for sending us these.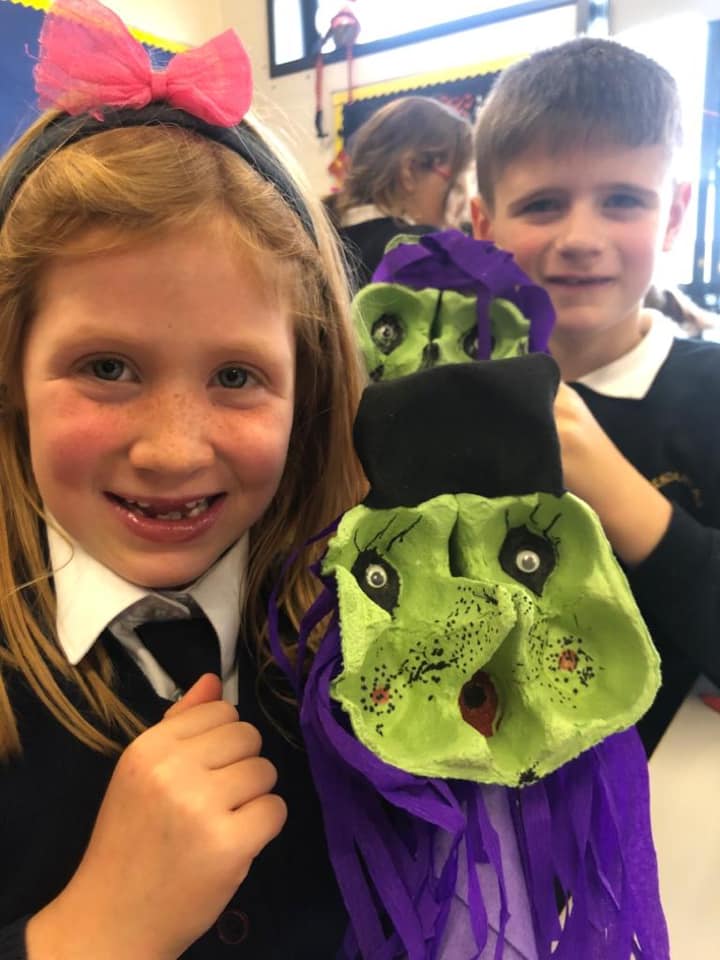 Litter Pickers
Thanks to our dedicated litter pickers who picked as much plastic they could from the yard and walkway to our school during the calm weather before and after storm Lorenzo at the start of October.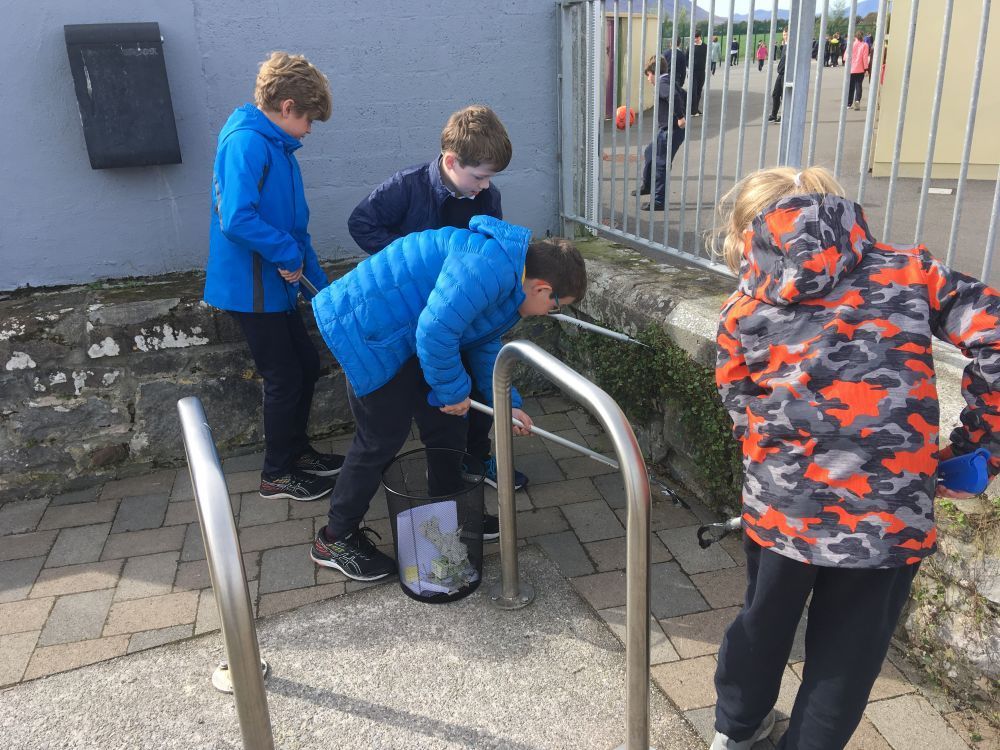 Greta Thunberg
Have a look at this short video of Greta Thunberg who is only 16 years old and making the world listen. Click this link: Greta Thunberg
Sail Boat Cars
Ms Olivia O'Shea's 4th class designed and made their own sail boat cars on 26/9/19. They investigated if the cars could be powered by wind energy (fan). The children really enjoyed the lesson as you can see from the pictures. This links nicely with our Greenschool Travel theme.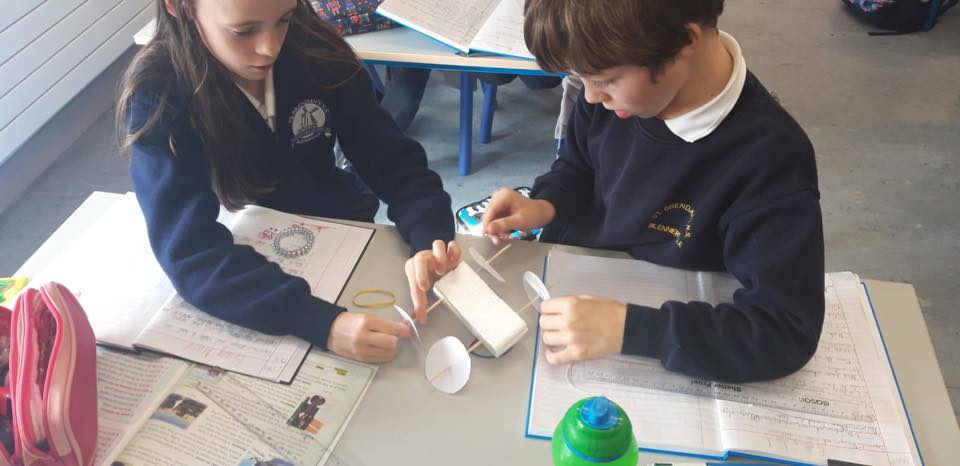 Thank You Angela Wall!
We have been so lucky in being selected to have Green-Schools Travel Education Officer Angela Wall going to visit our school on October 24th 2019 to help us with our Travel survey. She will visit all classes from 1st to 6th on the day spending a half hour with each class. 
Thanks to parent Kerrie Keane who accompanied Miss Brassil to the Travel meeting with Angela and Dave on 25/9/19. It is going to be the best flag yet with plenty of links to safety, activities and our active school ethos too. 
Travel Link
Well done to Ms Ryan's 3rd Class who did lovely art during September 2019 during an art lesson based on their history story of our school's namesake St. Brendan the navigator. He was one of the first of the travellers and didn't do any damage to the environment in his sail-boat.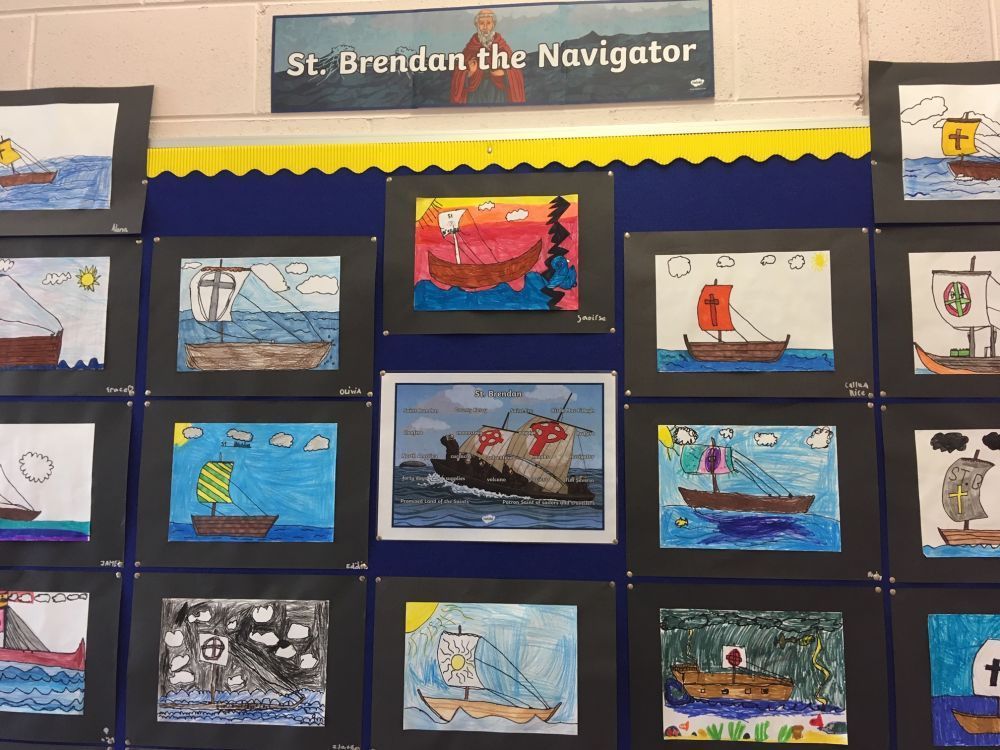 New Flag News - September 2019
We have just received the news that our new Greenschool flag theme will be Travel. We will begin this in September 2019 and work on this theme for 2 years.
It is time to give other children the opportunity to be on the Greenschool committee so at our meeting on 27th September, we will be saying goodbye to members and keeping the new members that just came on the committee at the end of May. I hope that the committee members leaving will all keep up their commitment to the environment by always remembering to reduce, re-use and recycle and to cut down on plastic!
Congratulations to new members Ciara Higgins and Tara Dowling who read this page in September 2019 and as a reward, get to join the Greenschool Committee for the Travel theme for the next 2 years!
Start thinking committee on how we can cut back on travel's impact on the environment or on how we might make travel safer for children coming to and from school. Date of first meeting will be Friday 27th September at 2:10pm in Ms Dinan's classroom.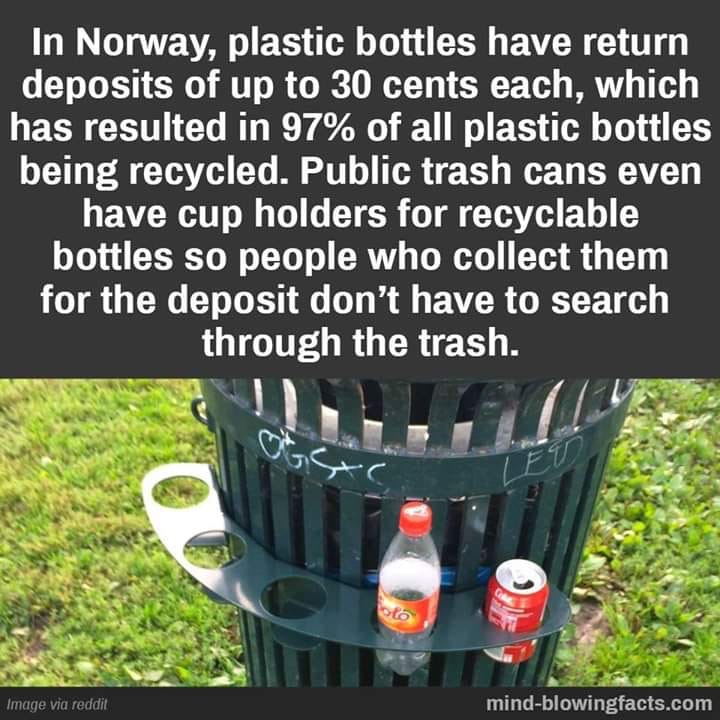 Greenschool September 2019
We began our Greenschool 'An Taisce' initiative in 2011. Since then, we have worked towards 4 flags.